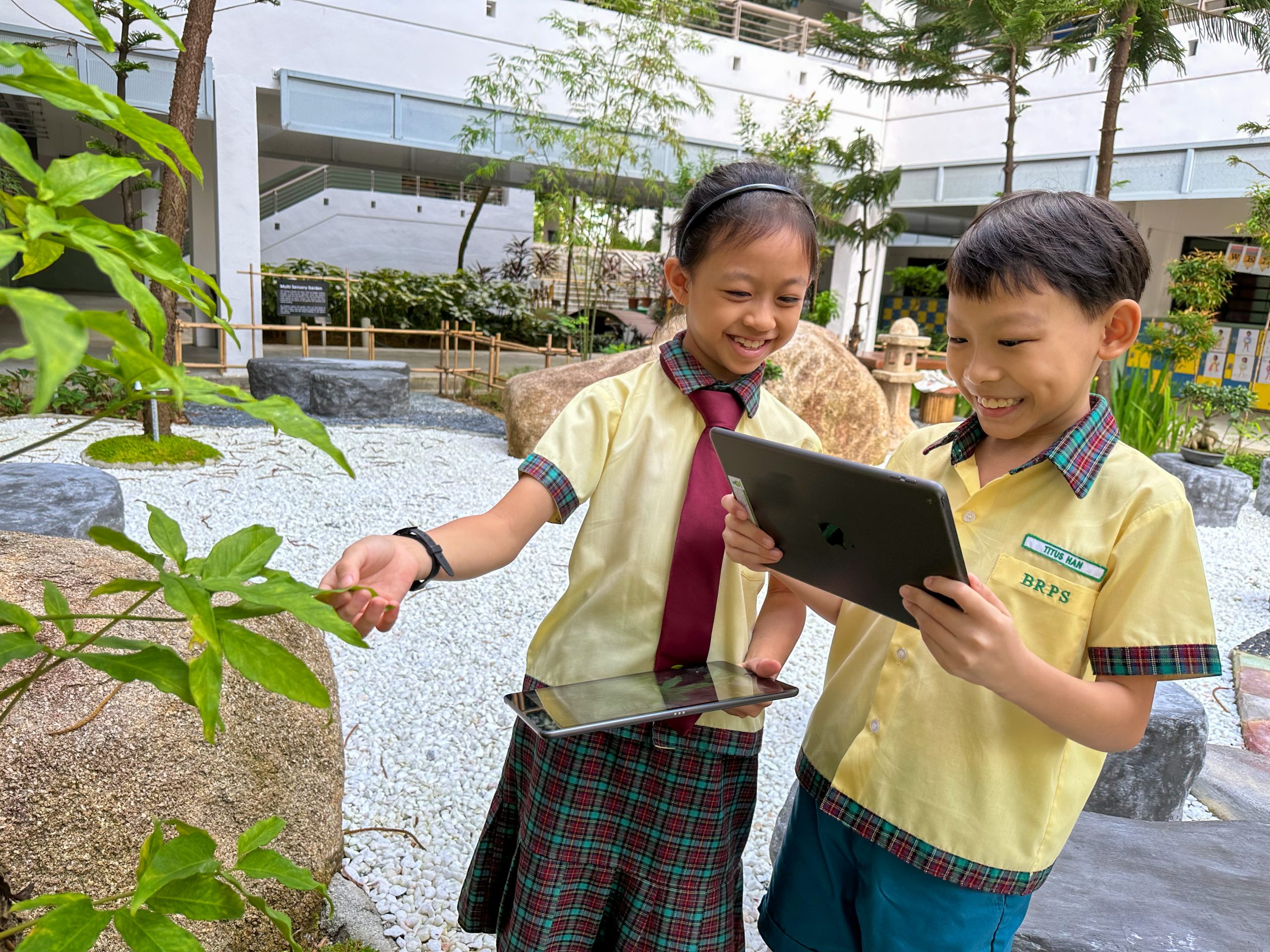 Developing Self-Directed and Collaborative Learners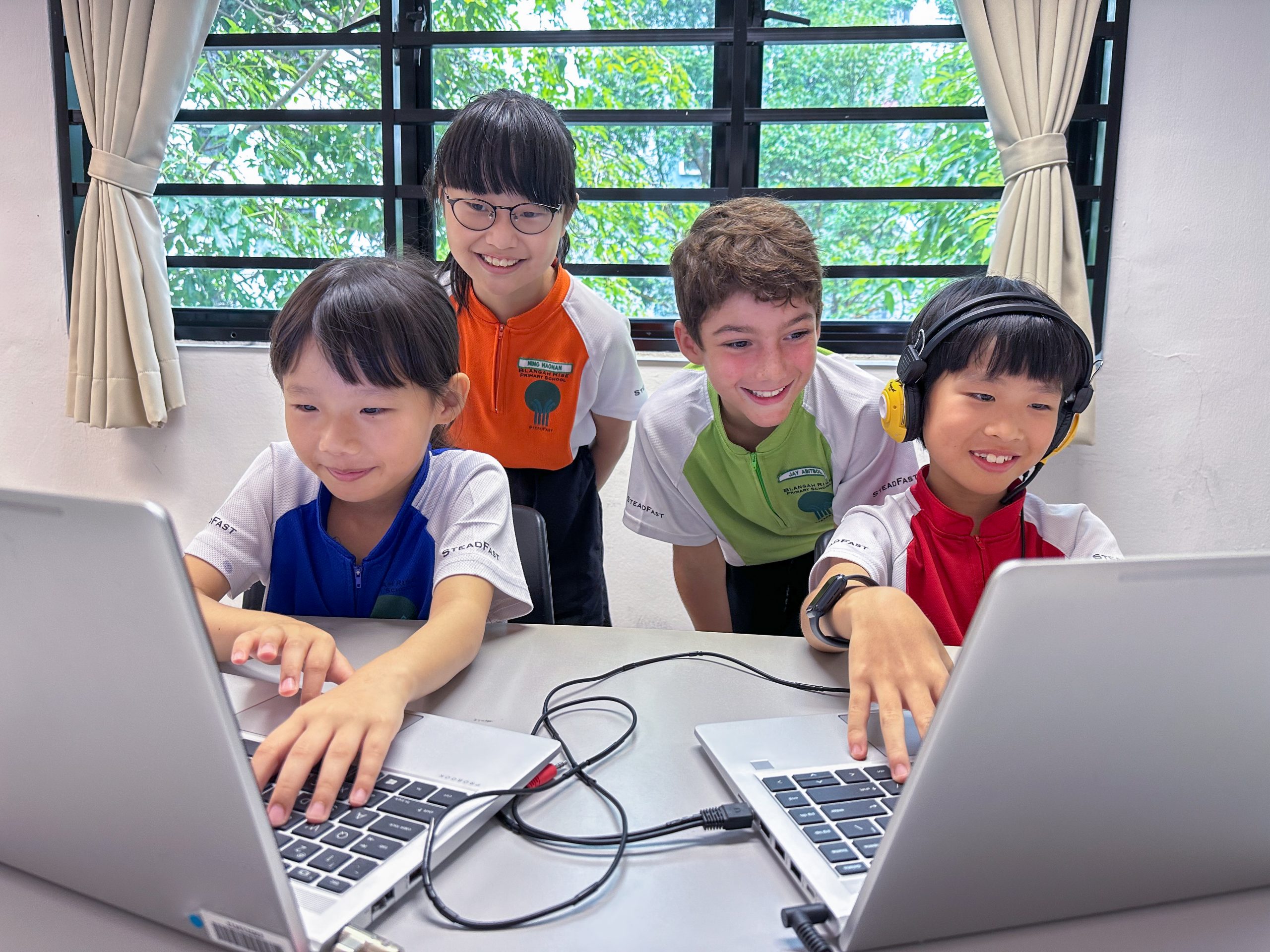 "We are going to go to the Computer Lab today!" It is the students' weekly lesson in the computer lab and they got ready excitedly. Teachers engage the students in blended learning whereby they have the opportunity to learn at their own pace and discover new knowledge. In addition, students extend their learning through collaboration with their peers and share ideas to gain new perspectives in online activities. As learning can take place anytime and anywhere, students are able to access the learning materials from home too.
Effectiveness of ICT-based lessons
"Technology has value added students' learning because it help to make our lessons more interactive and engaging. Students are able to explore new concepts and discuss with their peers. In addition, we could leverage on the power of technology to provide instant feedback to our students and help them learn better. Technology also helps us to adapt our lessons and strategies to better support our students in learning" These are some of the thoughts expressed by our teachers. Technology supports active learning, creating a participatory, connected, and reflective classroom which nurtures the future-ready learners.
Physical and Digital Spaces: Transforming the way students learn
From our Full Home-Based Learning experience, our students have developed the confidence to learn with technology in different learning contexts, with teachers blending learning seamlessly in both face-to-face and online spaces. Students shared that they were more confident in raising questions and building on their knowledge through online discussions.
Learning can indeed take place anytime and anywhere as students shared that they were very happy to see their teachers and peers online and learn from one another.
From our Full Home-Based Learning experience, we have continued leveraging technology to engage in self-directed and collaborative learning. There are Home-Based Learning days in a semester which provide our students and teachers the opportunity to engage in synchronous learning. "Our Zoom lesson on Home-Based Learning Day was a beneficial learning experience. The students had the opportunity to practise logging into Zoom and interact with one another in an online setting. We engaged in a live discussion on the topic, Whole Numbers, and worked on questions together. This platform provided valuable real-time feedback to my students and enhanced their learning experience. I was also aware of my students' learning progress and how I can support them better in my next lesson," said Mrs Tay, a Mathematics teacher.
Click here to read about a Video Conferencing session for a Science Lesson.
Click here to read about a Zoom Day for our students.
Building up ICT skills proficiency
In order for students to be confident in harnessing technology for learning, they acquire ICT skills through an enrichment programme. The skills are aligned to the MOE ICT Baseline standards and are integrated into the curriculum. Our Primary 1 students are introduced to PC Literacy and touch-typing so as to build up their mastery of navigation in the cyber world. As our students build confidence in harnessing technology, we engage our Primary 2 to 6 students in self-directed and collaborative learning through Google Classrooms. At Primary 2, students apply their touch-typing skills and write a short story using Google Documents.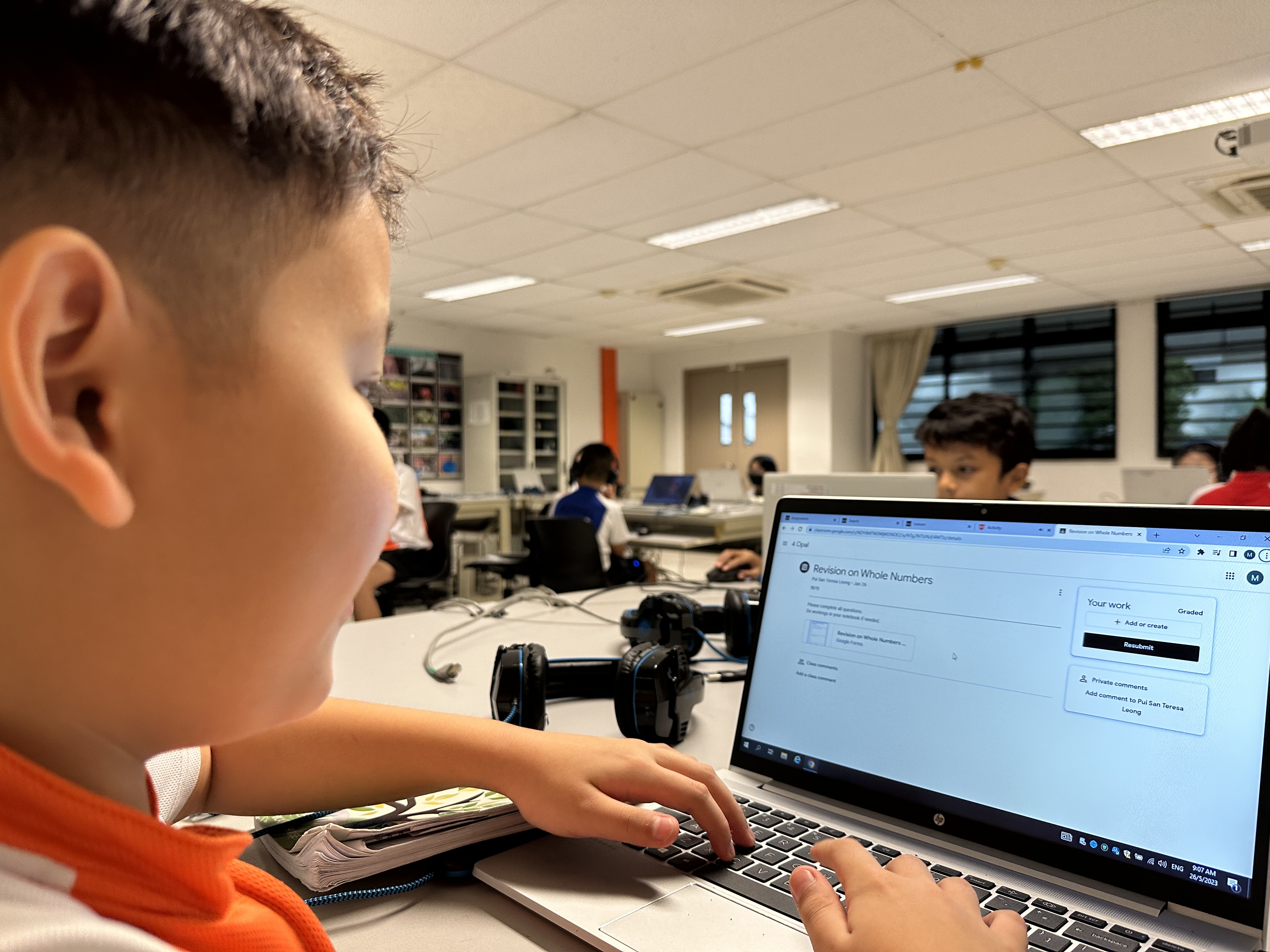 Introducing presentation skills to our Primary 3 students, they share their story on the Stellar Unit – Fear though Google Slides. Mdm Uuchi said, "The use of Google Classroom and Slides encourages exploration and creativity. Students learn how to have their text and image work together to express their voice and create meaning." One of our Primary 3 student, Esher, said that he enjoys using Google Slides to write his stories. It allows him to edit and improve on his stories easily. He can also share his stories with his friends as they learnt from one another.
Our Primary 4 to 6 students engage in a photojournalism learning activity through the use of Google Slides, as part of our learning activities in Viewpoints.
Values in Real and Cyber World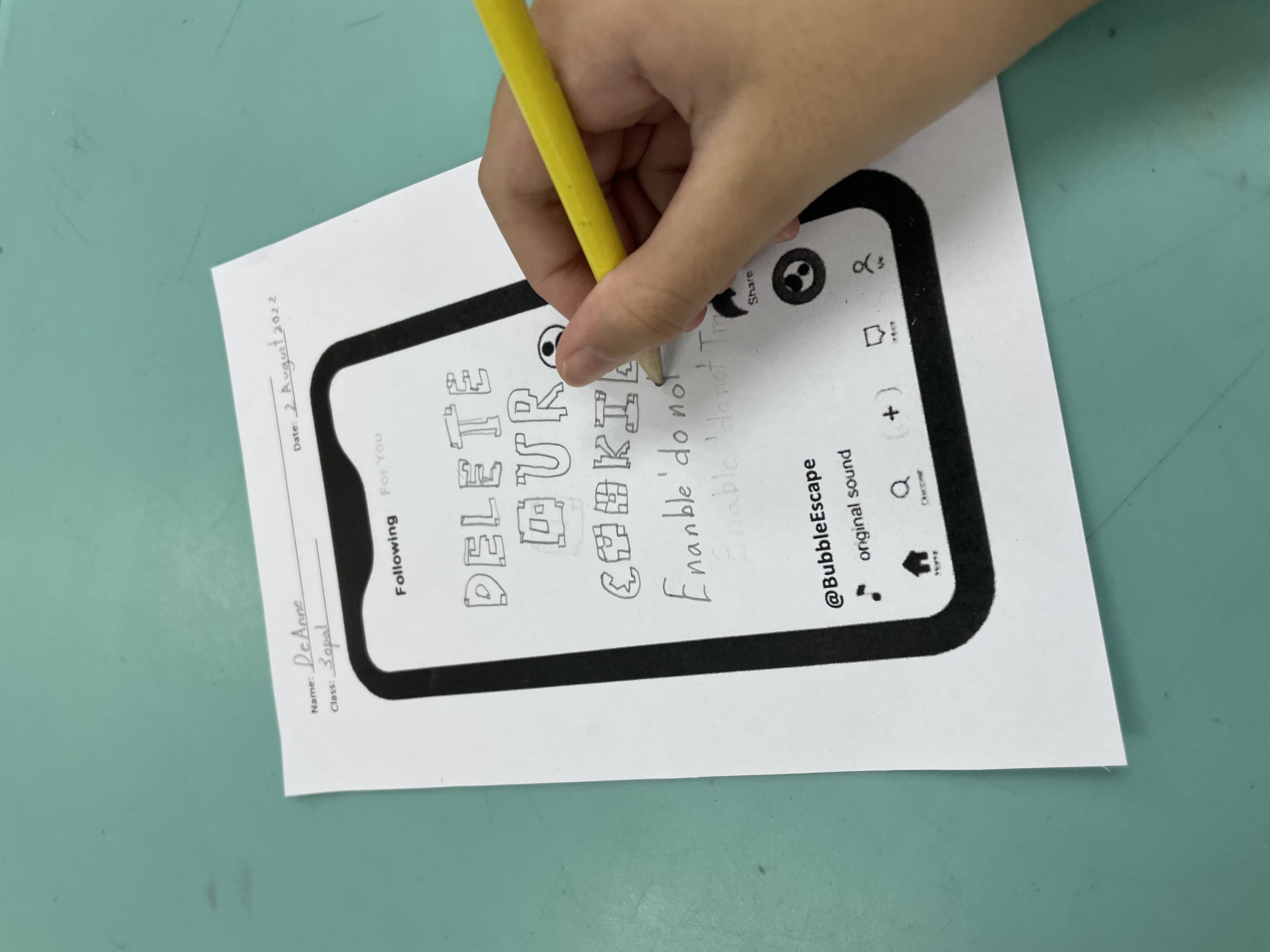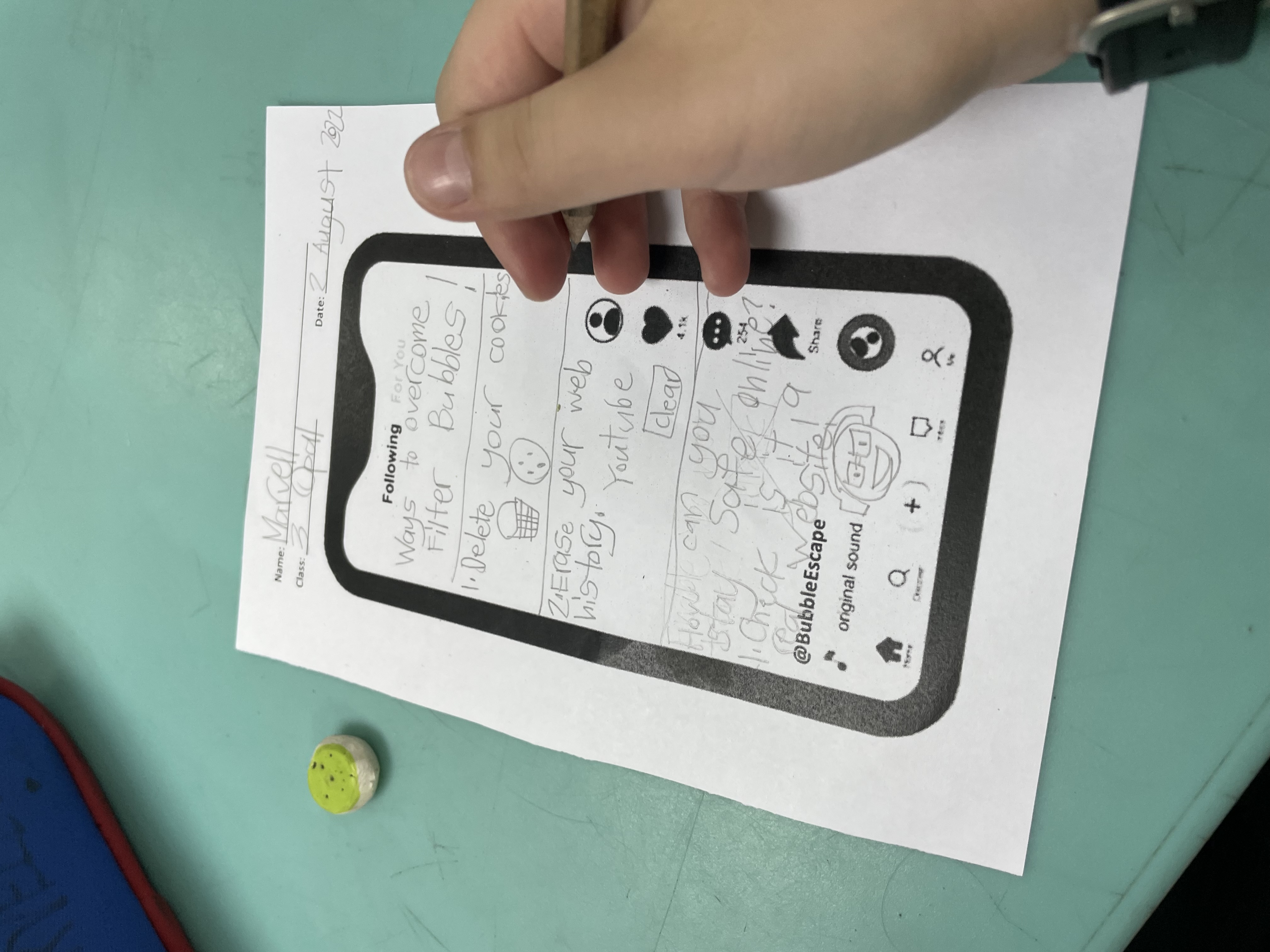 There is no difference in the way students interact in the real and cyber world. Technology has advanced greatly where communications and sharing of information is made possible through social media or a simple click of a button. It is important to equip our students with Cyberwellness values to develop them to be responsible and discerning users of technology. Topics such as online identity and expression, balanced use of ICT, netiquette, copyright, cyberbullying and cyber contacts are taught to students in a fun and engaging manner. Students learn about these topics through interactive talks, ICT enrichment, Young Photographers, games and activities during recess. As the technology landscape progresses rapidly, it is important to educate our students to make responsible choices online.
National Cyberwellness Advocacy Challenege (NCAC) 2022 - Silver Award
Meet our Cyberwellness Ambassadors! Zheng Hao, Ishaan, Khush, Catherine and Ser Yen!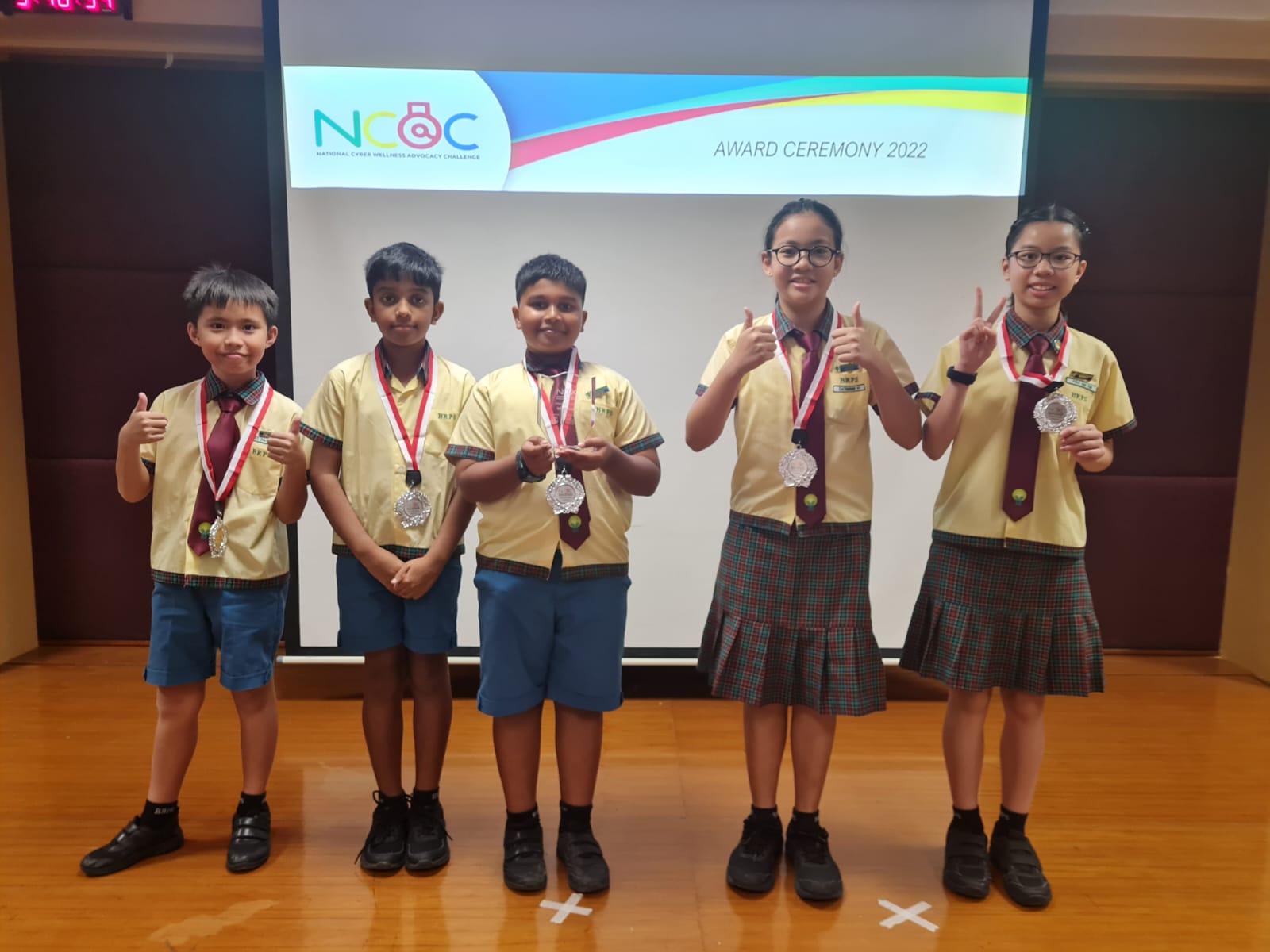 Did you know that you could be stuck in a filter bubble? Our Cyberwellness Ambassadors participated in the NCAC to design a toolkit to educate others on this phenomenon. For their hard work, they were presented with a silver medal!
Modeled after the popular concept of an Escape Room, our Primary 4 students designed a gamified toolkit for users to learn more about filter bubbles. The e-Escape Room allows the users to explore filter bubbles, its effectiveness and ways to bypass algorithms to overcome human biases. The multimodal toolkit, through a mixture of pictures, videos, and text, engages participants to draw and take part in the game to learn concepts.
The easily-accessible toolkit was marketed through a three-pronged approach to the family, class and community. In the class, teachers shared information on filter bubbles, bypassing algorithms and human biases. Students were then given the opportunity to explore the toolkit and to encourage their family members to try the toolkit together at their own time and convenience.