Character and Citizenship Education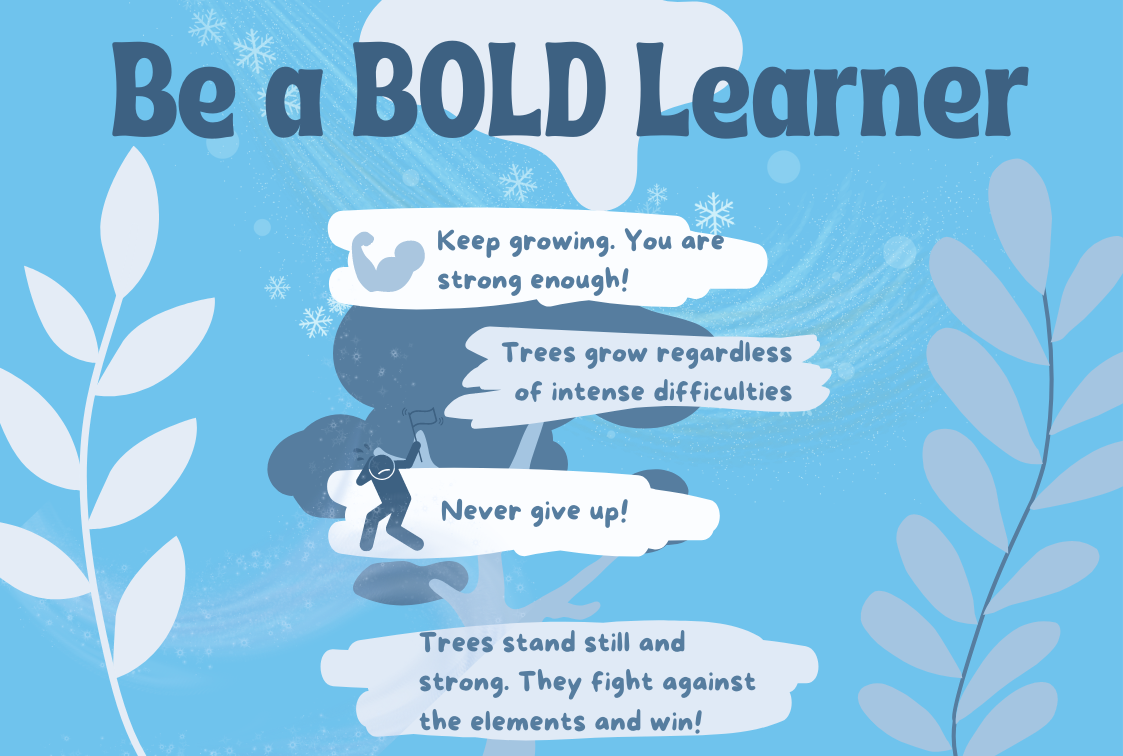 Trees remind us to grow regardless of intense difficulties, roughest weather, hardest places and heartless circumstances. Trees are exposed to elements that break their branches, hurt their roots and take their leaves. But they stand still and strong, showing us that it is possible to grow stronger, and fight against the elements and win. To support every Blangahnite in their growth, our teachers are always there to provide mentorship and companioning.
Speaking the Language of Virtues
In our daily interactions, we prioritize building trusting relationships between teachers and students. Our form teachers engage in morning meetings to instill the language of virtues, fostering an environment where students feel comfortable sharing their thoughts, experiences, and aspirations. Renard, a Primary 6 student, values these connections, stating, "I look forward to TSR Time as I get time to share with my Form Teachers my views and opinions on class matters." Mdm Sa'adah adds, "TSR Time gives me opportunities to get to know my students in my form class better." By discussing virtues, teachers create a shared vocabulary that helps students understand and internalize important values. This language of virtues forms the foundation for positive character development and ethical decision-making.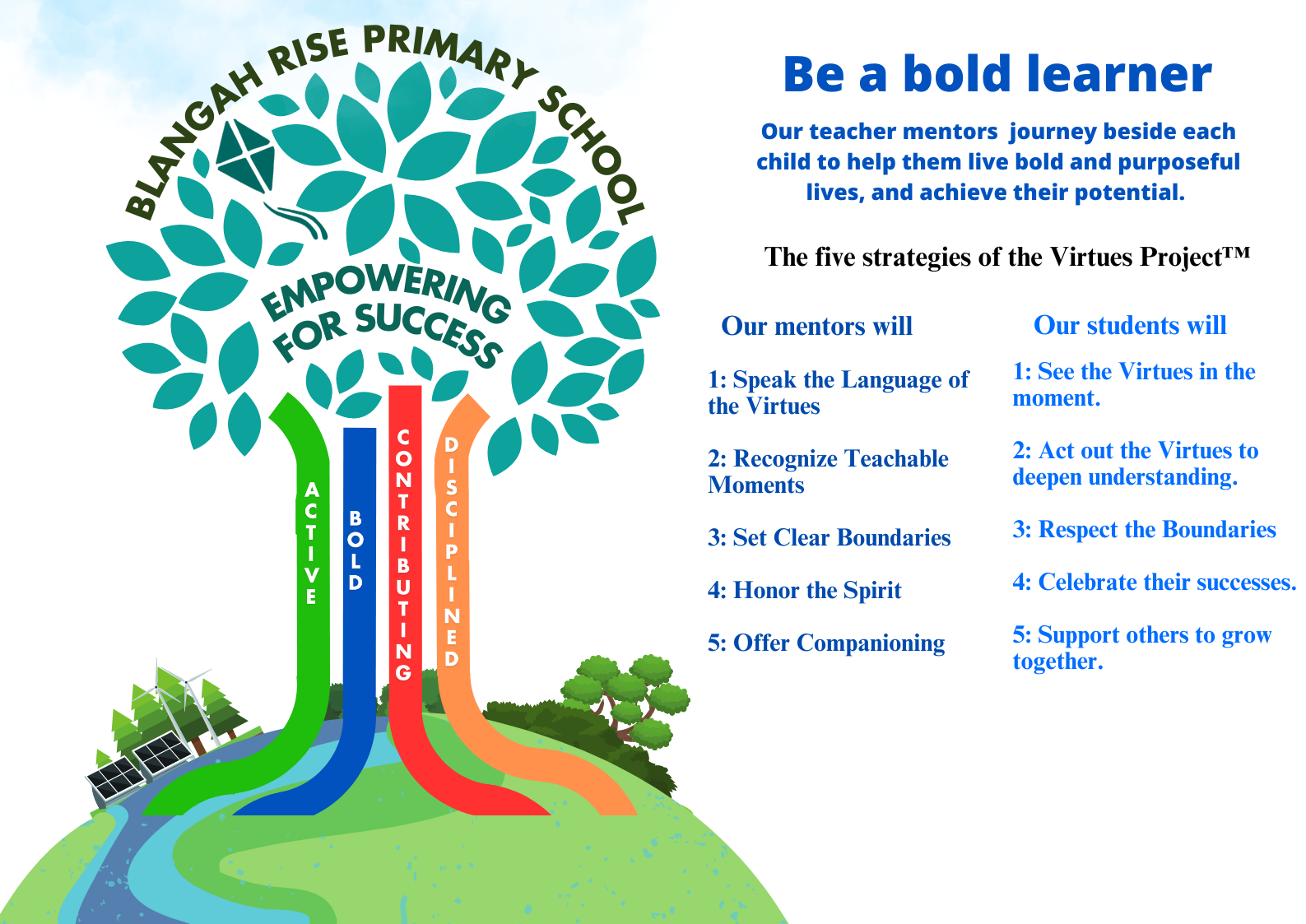 Set Clear Boundaries
Our commitment to mentorship extends to our House System, introduced in 2021, where we learn and grow together as a supportive community. Teachers actively connect with students and provide guidance. House members participate in team-building activities, fostering rapport within an atmosphere of trust, care, and respect. To support students academically, Teacher Mentors dedicate up to an hour before physical activities to guide self-study sessions. While fostering trust and open communication, our teachers also set clear boundaries to ensure a safe and respectful learning environment. By establishing these boundaries, students understand the expectations for behavior and conduct, creating a structured yet supportive context for virtues to thrive.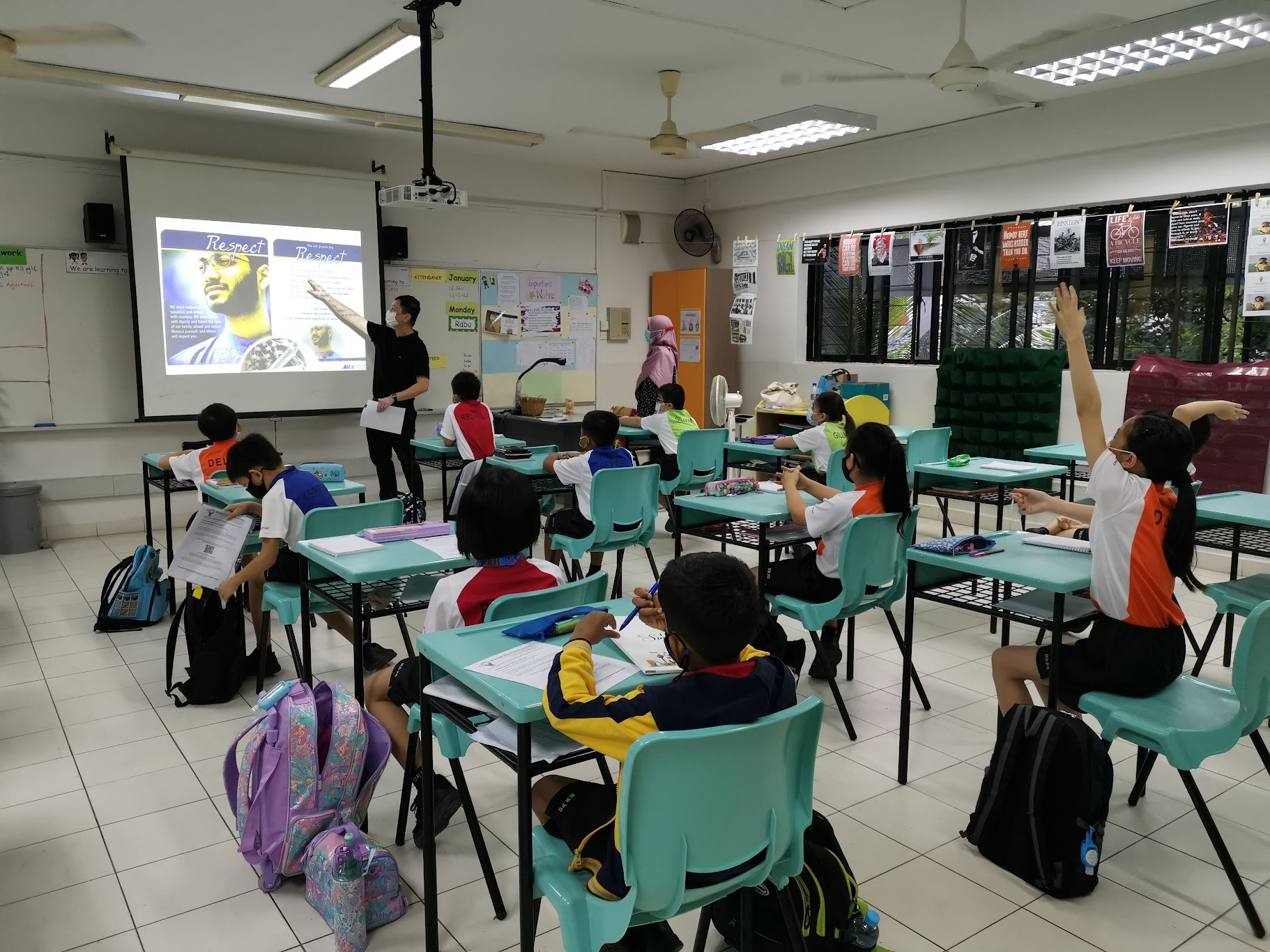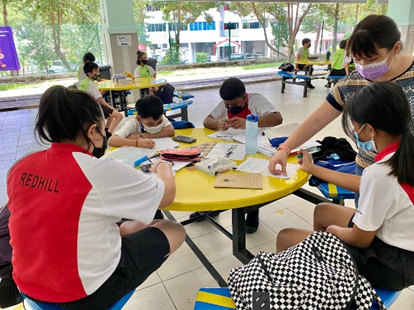 Recognize Teachable Moments
We celebrate and acknowledge our students' growth through the "GOTCHA! Caught you doing good!" platform, recognizing those who exemplify the Seven Habits and virtues by performing acts of kindness. Through the "GOTCHA!" platform, our teacher mentors actively recognize and celebrate students' acts of kindness and virtuous behavior. By identifying these teachable moments and highlighting them to the entire student body, we promote the values of the Seven Habits and virtues as integral components of personal growth and resilience.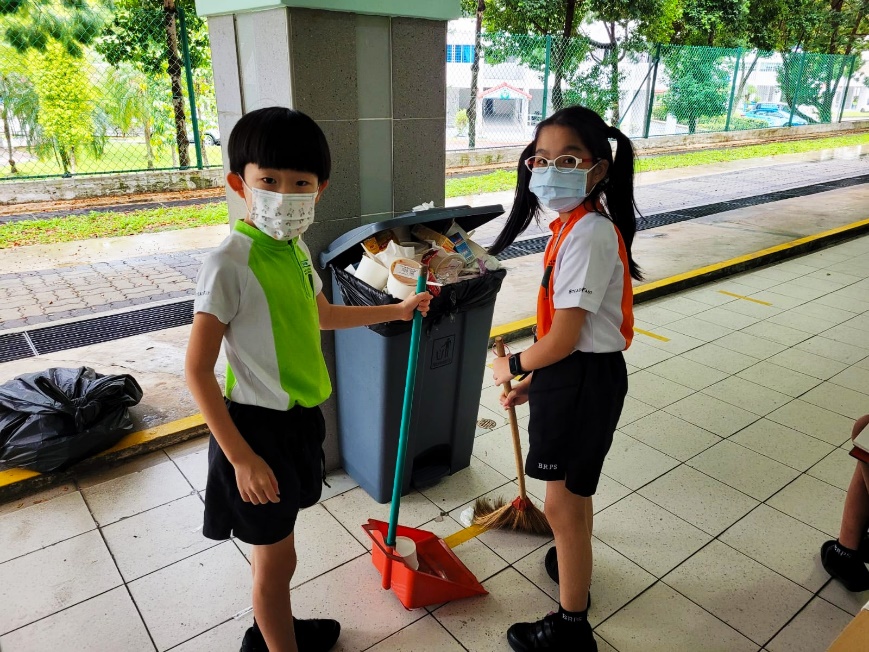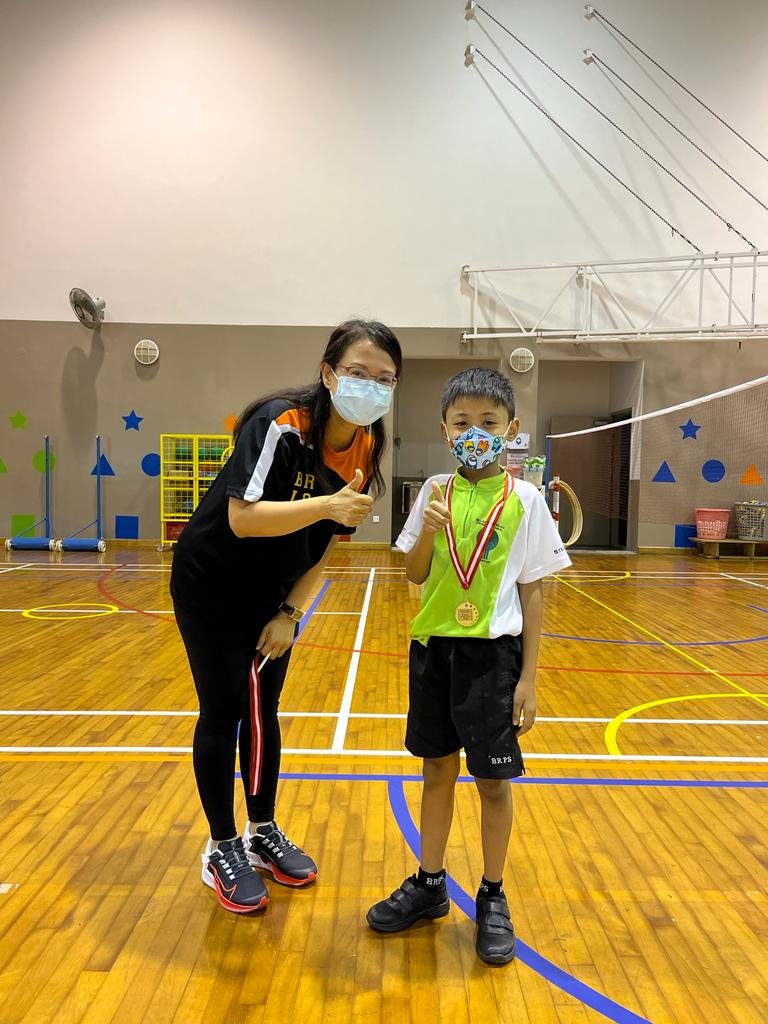 Honor the Spirit
Our commitment to mentorship extends beyond academic guidance. We honor the spirit of each student's individuality and potential. At Blangah Rise, we encourage our students to be reflective learners who boldly pave their own paths. Our teacher mentors instill decision-making skills and a growth mindset, empowering students to make informed choices and face life's challenges with courage. Through online conferencing, students gain exposure to inspirational stories of individuals who have harnessed their strengths to overcome obstacles and find their true calling. Julia, a Primary 6 student, excitedly shares her experience: "A barista showed us how to brew coffee online, and it was cool! I also found out about some of the challenges in working in the service industry." By promoting a growth mindset, we encourage them to honor their unique strengths and aspirations. This approach empowers students to develop their identities and pursue their passions.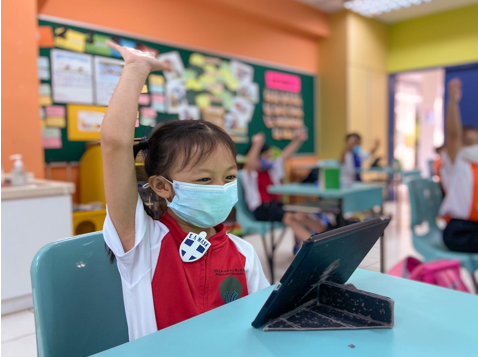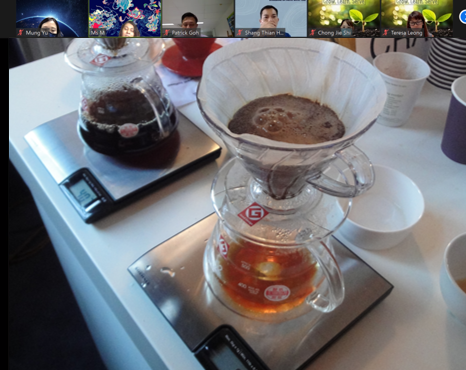 Our dedication to mentorship extends to our comprehensive Career Guidance program, starting with introductory lessons for Middle Primary students and progressing to in-depth lessons and an annual Careers Fair, to guide them in making informed decisions about their education and careers. We firmly believe in our students' boldness to listen to their hearts and their courage to forge their own unique paths in life.
Offer companioning
Our teacher mentors walk alongside students as companions on their educational journey. Whether through morning meetings, House System activities, or career guidance, our educators offer companionship and support. This sense of companionship fosters trust, builds self-esteem, and encourages students to navigate their academic and personal challenges with confidence. Amidst the challenges of life, our commitment at Blangah Rise is to nurture the growth of every Blangahnite. Our educators stand as mentors and companions, walking beside our students on their journey to becoming tomorrow's bold learners equipped with 21st-century competencies.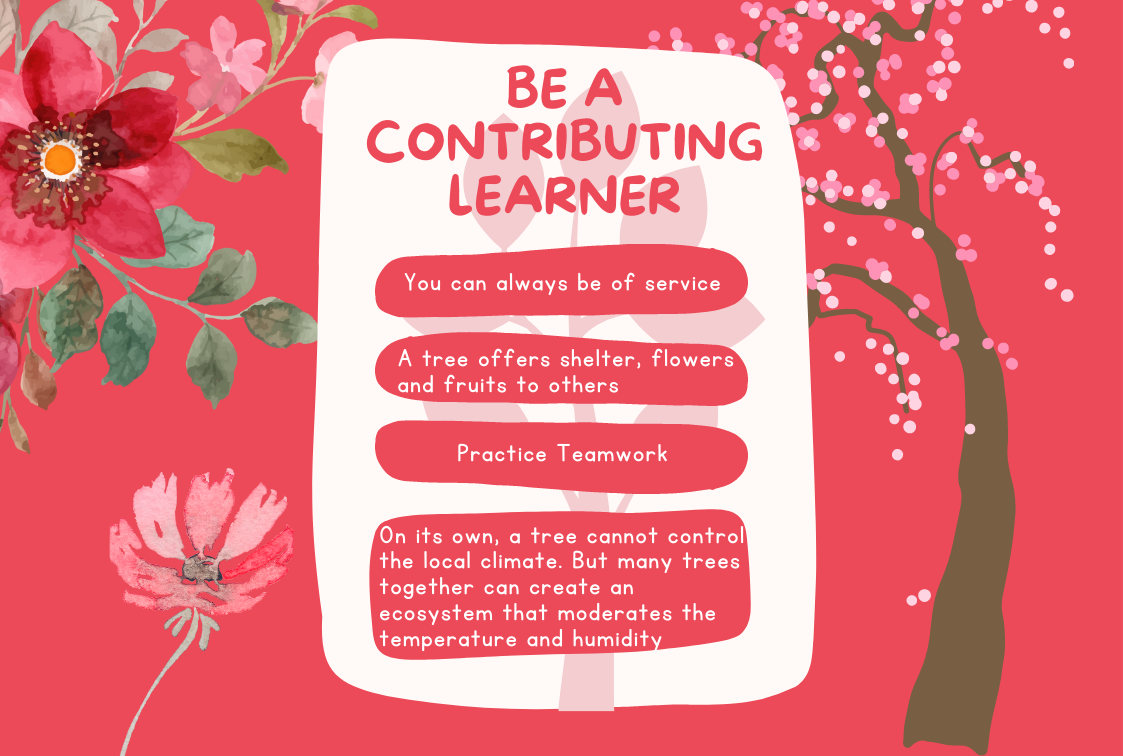 A tree's significance extends beyond its individual parts. It offers shelter, fragrant flowers, nourishing fruits, and a serene gathering place. Yet, a single tree cannot create a stable local climate. It is when many trees come together that they form an ecosystem, moderating temperature, storing water, and generating essential humidity. As a community, we can achieve what individuals cannot.
At Blangah Rise, we take great pride in nurturing the essential 21st-century competencies that prepare our students for a dynamic and interconnected world. Civic literacy, collaboration, and communication are at the heart of our educational philosophy. We believe that these competencies are not just skills but cornerstones for responsible citizenship, effective teamwork, and meaningful engagement in our community. Through our holistic approach, we empower our students to become well-rounded individuals who are not only academically strong but also socially conscious, collaborative, and skilled communicators, ready to face the opportunities of the 21st century.
Creating a school environment that nurtures community and togetherness, students' creative works adorn our walls, decorating trees, class notice boards, and level boards. Student Leaders actively share and encourage one another through the exchange of motivational quotes and stories, fostering understanding and empathy. This occurs before the singing of the National Anthem and on various notice boards, staircases, Art & NE Heritage Galleries.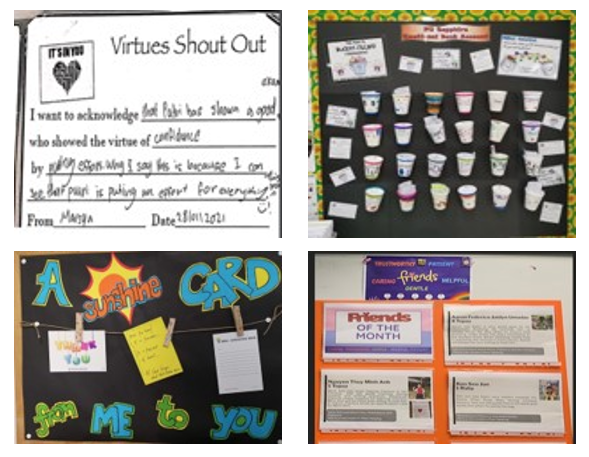 To nurture students' growth in virtues and the 7 Habits, we employ multiple recognition schemes that emphasize and encourage these values.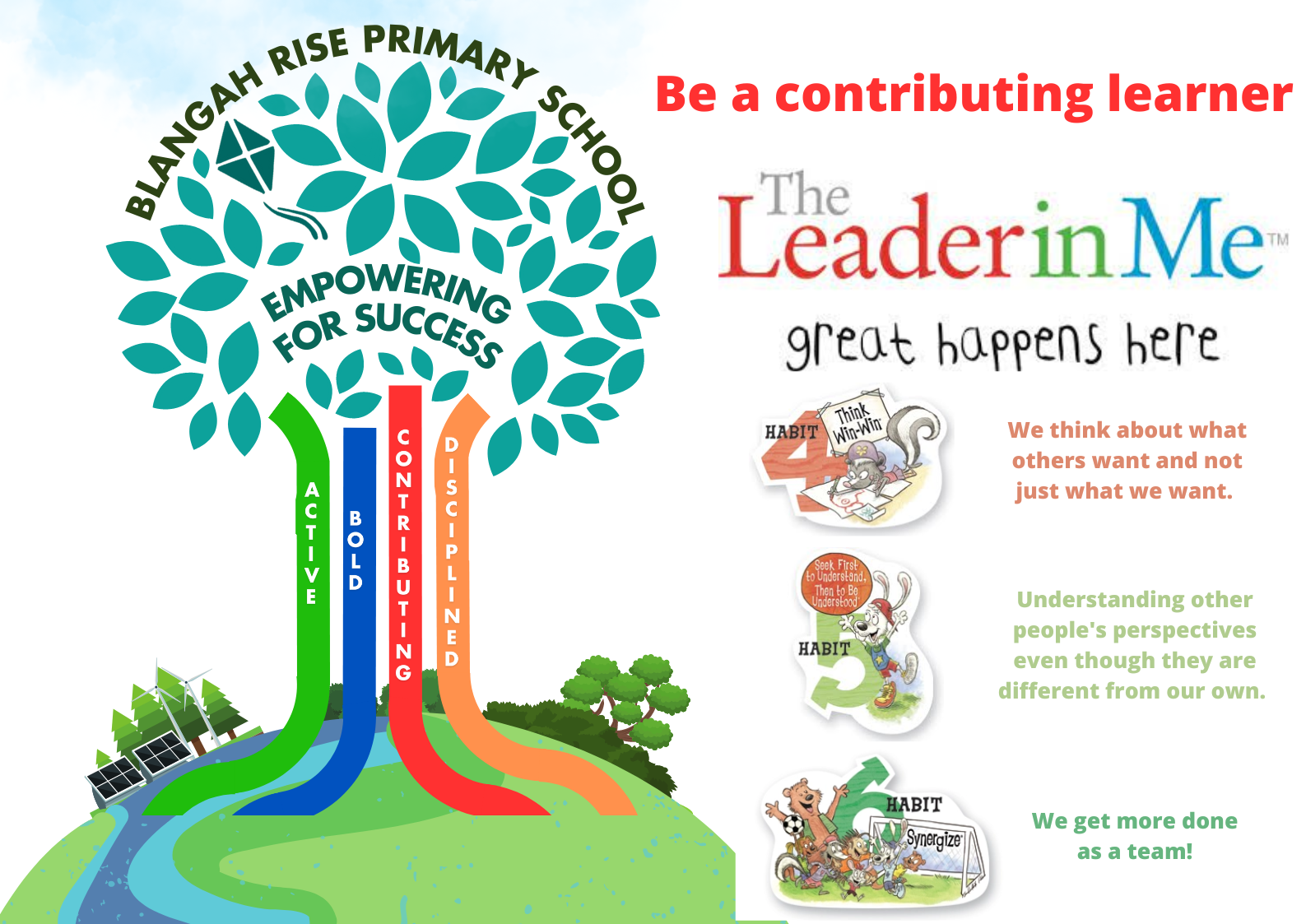 At Blangah Rise, we consider all our students as precious gems, polishing them with love to enable them to shine brightly. The termly GEM Class award acknowledges students who work cooperatively, exemplifying the Seven Habits and underlying virtues as a class. The termly GEM Student award recognizes students from every level who consistently display the Seven Habits and virtues in their everyday actions.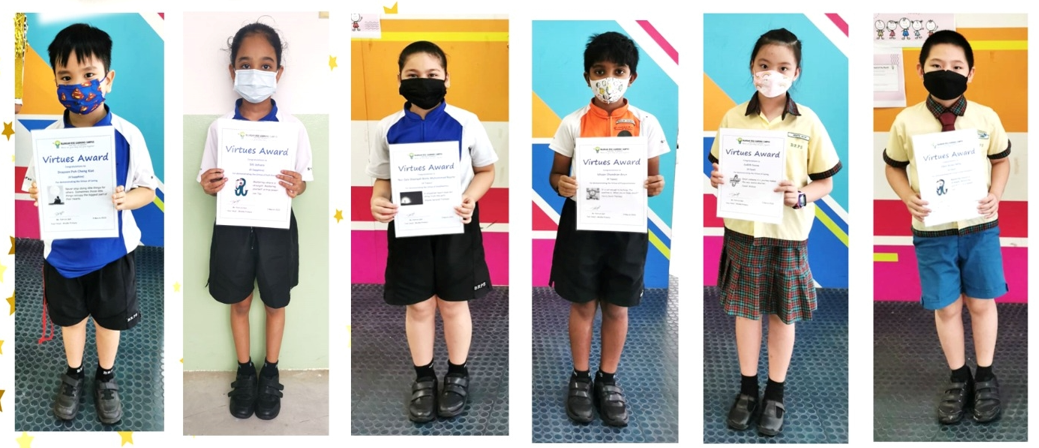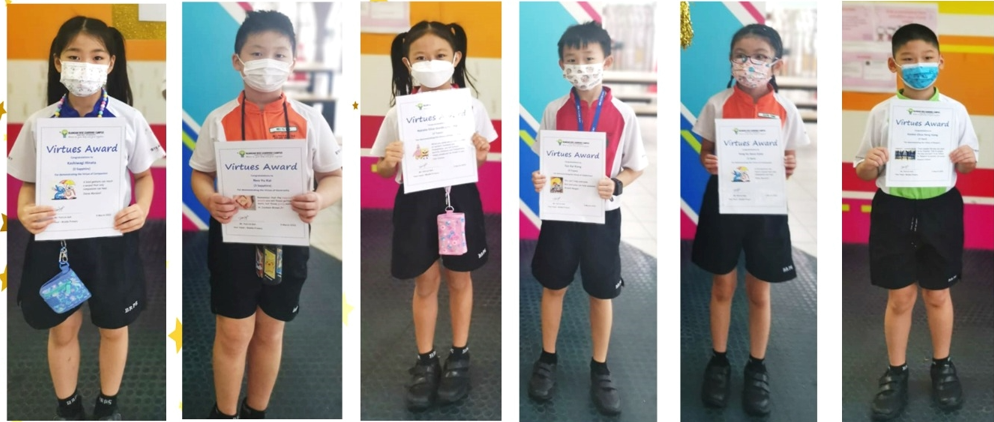 Students play an active role in creating a caring and positive peer culture within the school. They look out for one another, offer support to peers in need, and cultivate positive relationships, demonstrating their understanding, empathy, and respect for differences. We also collect inspiring stories to encourage students to learn from exemplary behaviors.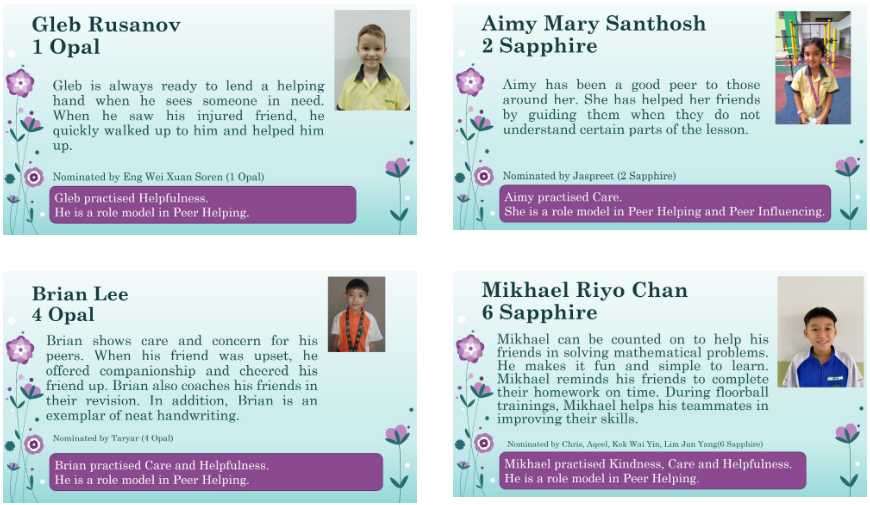 Service is a cornerstone of our approach at Blangah Rise. We offer numerous meaningful activities to help students serve the community. During our annual EAS Day, students acknowledge, affirm, and appreciate the efforts of the school's non-teaching staff, facilitated by teachers. Students plan and execute various activities to make this day meaningful for these staff members.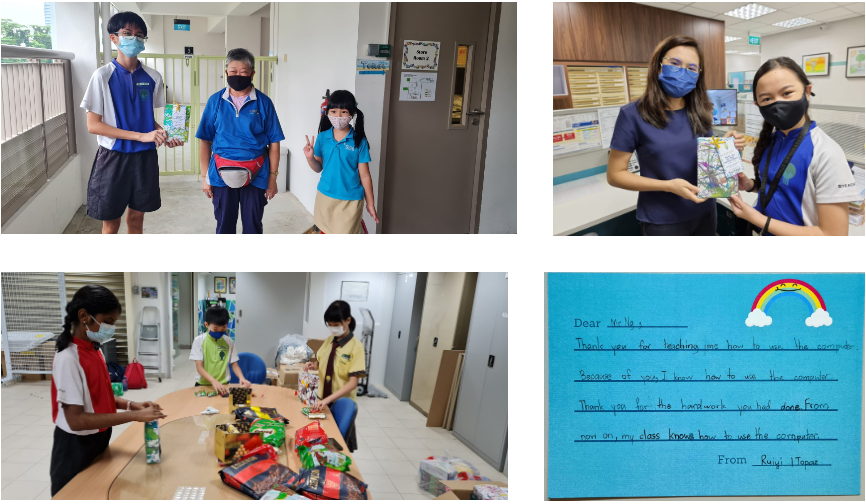 Our commitment to communication, understanding, and empathy extends beyond the school grounds. We organize storytelling sessions at library@harbourfront and Singapore Botanical Gardens, where our students bring to life Blangah Rise's self-written storybook about Care for the Environment. They narrate the book to members of the public, promoting understanding of environmental issues. Read the full story via the following here and here.

In the Green Snapshots Trail, our students take participants on a learning journey around Telok Blangah and Berlayer Creek, introducing the rich nature and heritage of the area to Singaporeans.


Within our Learning for Life Programme (LLP), students actively care for the green gardens on our school premises and participate in environmental conservation efforts. From a young age, our students learn the importance of their role in conserving and protecting the environment in Singapore. I have learnt how to recycle and make use of old things. Upcycling is when you make something better out of something that is not needed anymore. I like the activity and I am going to use what I made to store my pencils. I like that you can recycle things. Gail, Primary 4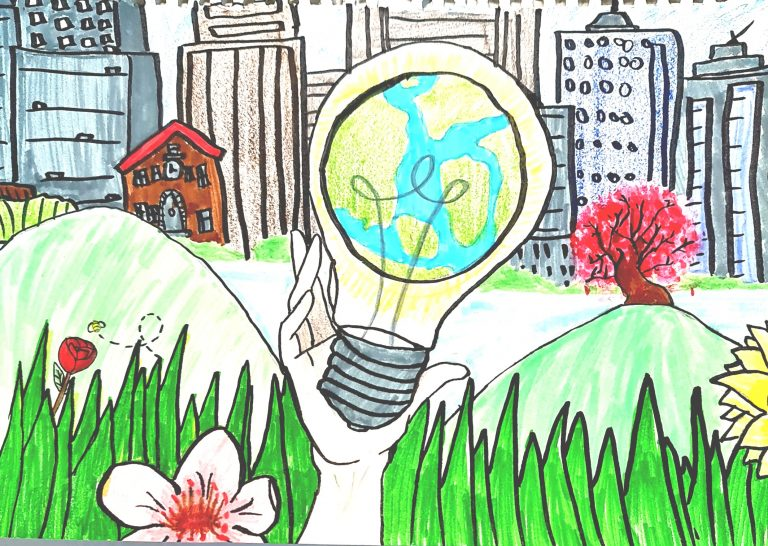 We encourage students to apply their learning of virtues and habits through service, fostering connectedness with the school and the broader community. Our commitment to communication, understanding, empathy, and civic literacy drives our students to become responsible citizens who actively contribute to their communities and in the world.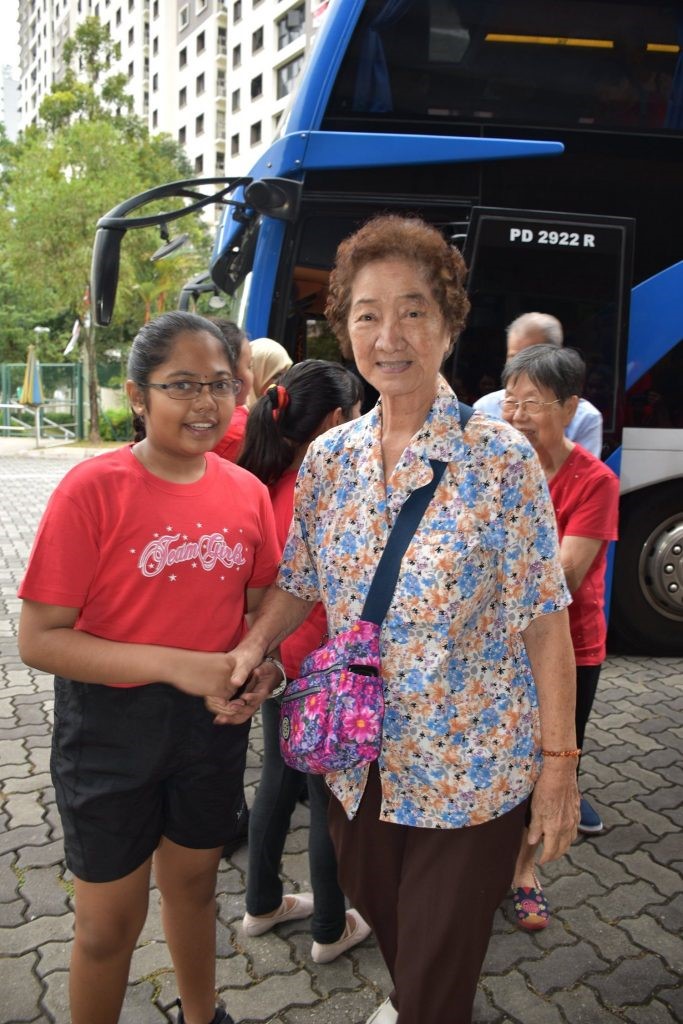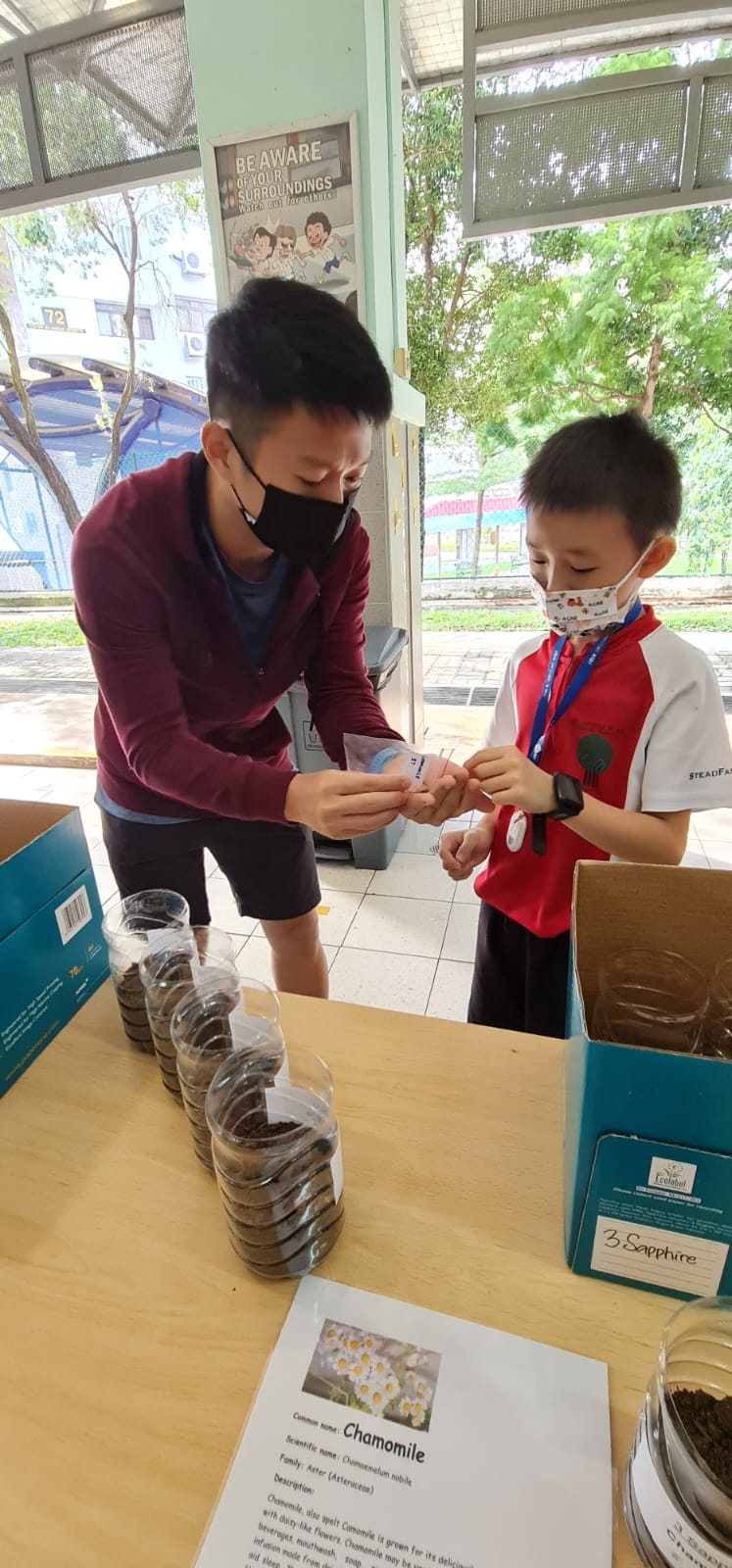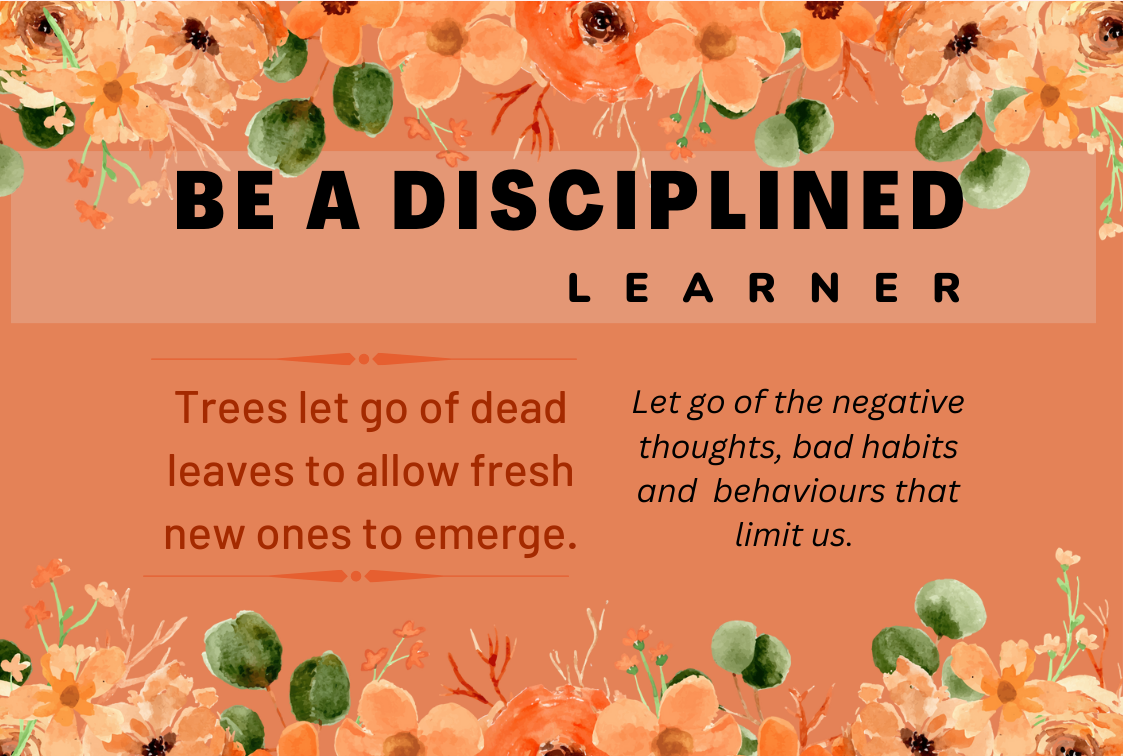 Adaptive learning is like a tree that gracefully sheds its leaves with each new season, allowing it to not only embrace the changing environment but also to grow stronger over time. Just as the tree drops its old leaves to conserve energy and make room for new growth, adaptive learning sheds outdated knowledge and strategies, enabling our students to absorb fresh insights and adapt to evolving challenges. At Blangah Rise Primary, our adaptive learners continuously renew themselves, ensuring they remain vibrant and well-prepared for the ever-shifting landscape of knowledge and skills. Our holistic education approach, grounded in the 7 Habits and the Virtues Project, supports students on their personalized learning journeys. In every facet of school life, our teacher mentors utilize the language of virtues to recognize and guide our students. They seize teachable moments and incorporate formal lessons to empower students to release their past selves and set new character goals. Within our Character and Citizenship Education (CCE) and Form Teacher Guidance Period (FTGP) lessons, teachers employ various scenarios to help students explore their motives and consider the virtues they wish to uphold.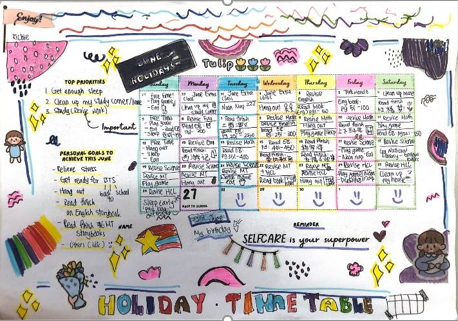 To nurture students' social and emotional skills, we offer a variety of programs, such as the First Days of School Programme, where students engage in curated activities to set goals and expectations. These activities align with the concept of personalized learning, allowing each student to define their unique path to growth.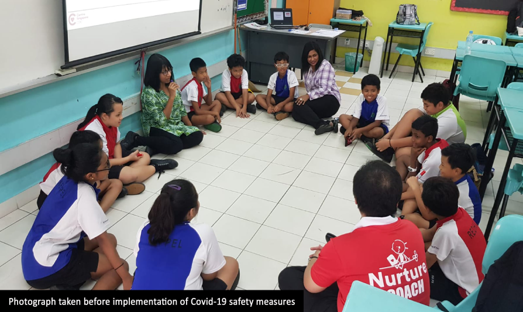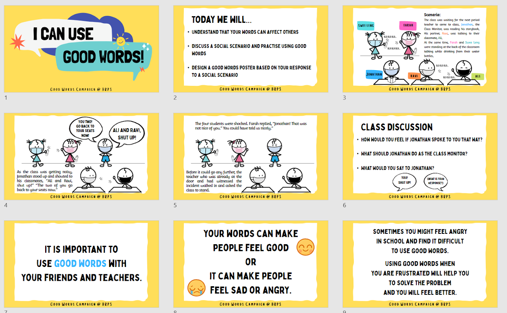 This holistic approach to character education aligns seamlessly with our school's commitment to adaptive learning. We have developed a comprehensive character education database that meticulously tracks the progress of each child across various outcomes, including 21st-century skills, collaboration, and communication skills. Leveraging machine learning, we gauge the development of every student through our suite of programs and identify specific areas for growth. This sophisticated system enables our school to remain acutely aware of the individualized learning needs of each student and empowers us to plan targeted support at a school-wide level, ensuring that every student thrives in both academic and character development.
At Blangah Rise, we recognize that each student is unique, and our approach is centered around tailoring learning activities to their specific needs and strengths. We encourage a culture of feedback, where students receive timely and constructive input to enhance their skills and knowledge. Blangah Rise has many platforms for our pupils to be an adaptive learner through our multitude of learning platforms such as CCAs, Sports activities and House Sessions. This is how we empower our students to craft their educational path, fostering a sense of ownership and responsibility for their growth.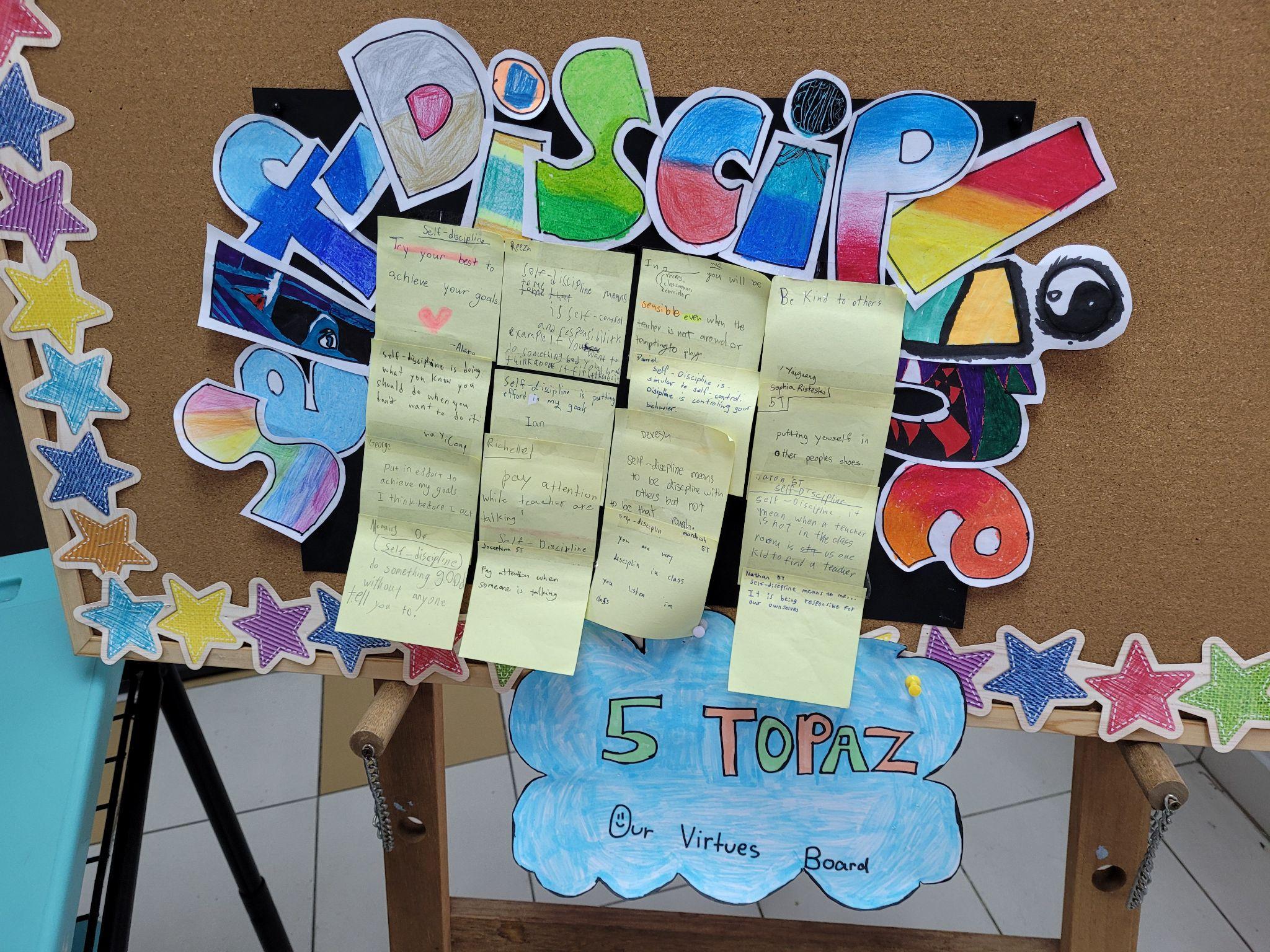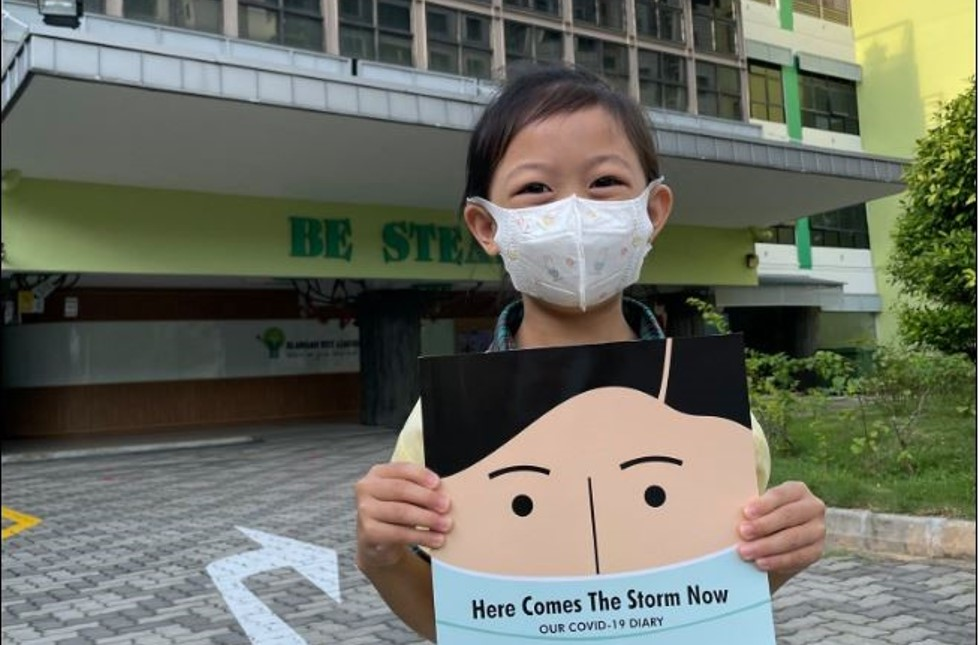 At Blangah Rise Primary School, we are dedicated to nurturing the character growth of our students using a multifaceted approach. Our commitment is shown through our close mentorship programs, where we employ the strategies of the Virtues Project to guide our students in cultivating qualities such as empathy, responsibility, and resilience. These virtues are not mere abstract concepts; they are actively integrated into our students' daily experiences, both within and outside the classroom. Furthermore, we recognize the significance of preparing our students for today's fast-paced world. Blangah Rise Primary School is committed to equipping our students with these 21st-century competencies, including critical thinking, communication, collaboration, and creativity. Our curriculum and teaching methodologies are designed to nurture these competencies alongside traditional academic subjects. Through the seamless integration of virtues, the 7 Habits, and 21st-century competencies into our educational framework, we empower every student to discover the "Leader in Me" and the strength of peer support through the "Leader in Us." These principles are interwoven into every aspect of school life at Blangah Rise Primary School. By nurturing both the minds and characters of our students, we are preparing them not only for academic success but also for a future where they can lead with integrity, resilience, and a sense of purpose.