Making STEM come alive, Mrs Jenny Quek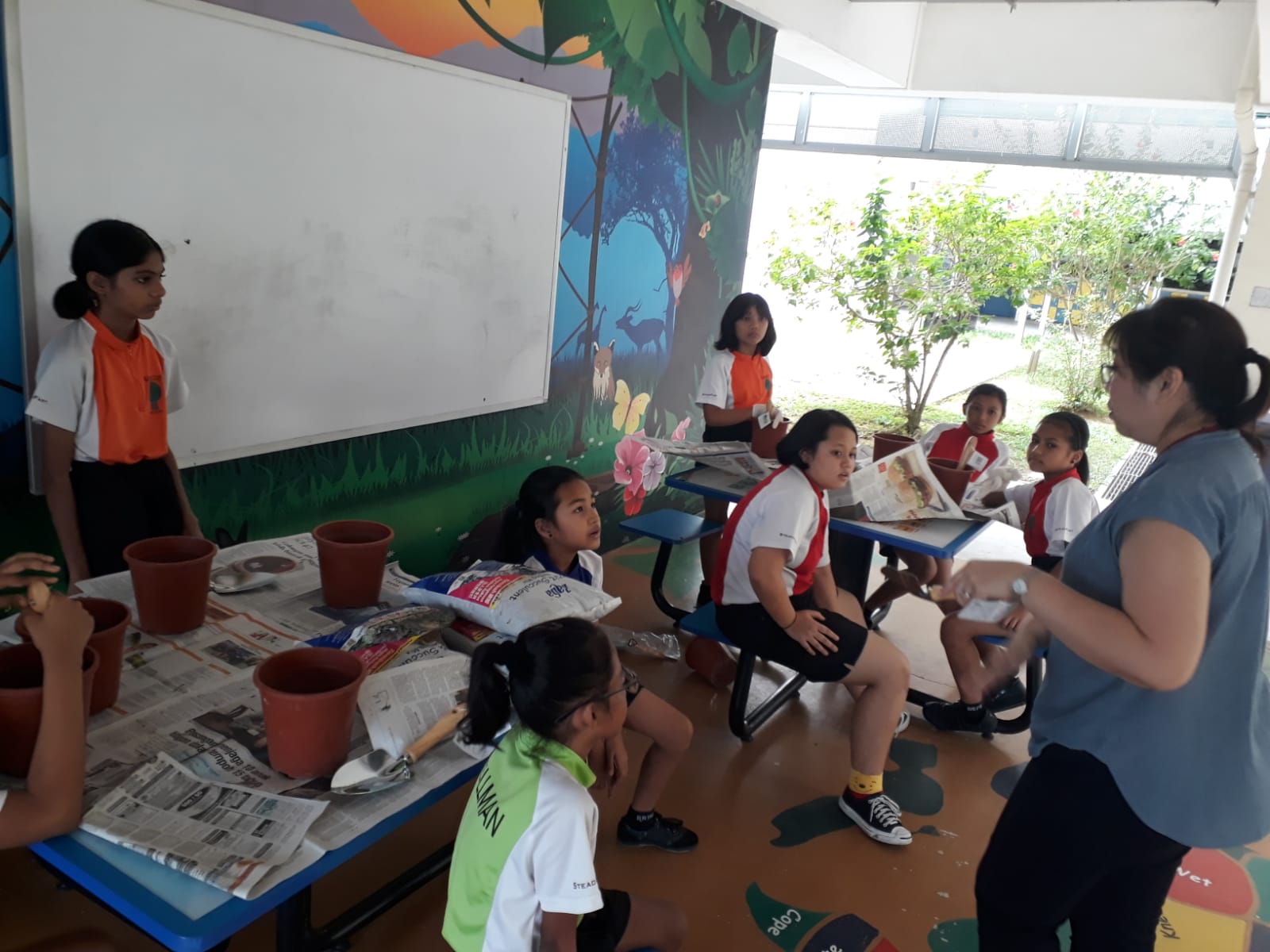 In Mrs Jenny Quek's class, it is common to see students raising questions, seeking explanations to phenomena which they have observed and sharing ideas. She engages students in the process of thinking, questioning and problem solving, allowing them to build their experience through hands-on investigations which help to lay the foundation for understanding basic STEM concepts and making connections to current events and everyday phenomena.
Mrs Quek won the 2019 Outstanding STEM Teacher Award, which is co-organised by Science Teachers Association of Singapore (STAS) and Singapore Association for the Advancement of Science (SAAS) to recognise teachers who ignite a passion for STEM in their students and use innovative methods to engage students in the learning of STEM. "I strongly believe that all students have the natural curiosity to explore things around them," says Mrs Quek.
As the Head of Department for Science, she is passionate about helping her students apply what they are learning in Mathematics and Science to real-world contexts. For example, in Mathematics, students learn about length, time and speed while in Science, they learn about magnets, electrical systems, heat and temperature, and diversity of materials. The STEM-related activities enable the students to apply what they have learnt in these topics to help them to innovate and solve problems.
Mrs Quek constantly thinks of new and interesting ways to engage her students and differentiates her instruction to meet the needs of every child. A few years back, she collaborated with a Senior Teacher from another school to conduct a workshop on "Using Toys to Engage Students in Learning Science".
Since 2018, Mrs Quek, together with Ms Eileen Puah, Head of Department for Mathematics, has led a team of teachers in the school's Applied Learning Programme (ALP), known as Aspiring Confident Engineers (ACE) @ BRPS, introducing STEM activities to the primary school and MOE Kindergarten children. They advise the school's STEM Club, where students with a greater interest and aptitude in STEM are involved in specialised training on STEM-related activities and robotics. They participate in external competitions such as the Singapore Amazing Flying Machine Competition and National Robotics Competition. STEM Club students have also taught Primary 2 students to use recyclable materials to create balloon-powered cars.
Mrs Quek extends the learning of STEM to the external community. In The Green Snapshots (TGS) Trail around Telok Blangah Hill Park and Mount Faber, which is organised for members of the public and led by student docents, one of the highlights involves getting participants to compete in constructing a 40-cm bridge which can hold a 500-g mass. They are given a variety of recyclable materials to create their bridges. This activity, which intentionally takes place at the Henderson Waves, provides participants with an insight into the thinking and considerations of an engineer.
Each year, Mrs Quek and her team of Science teachers organise Science Buskers where Primary 6 students demonstrate their knowledge of Science concepts to Primary 1 to 5 students through hands-on activities. For example, students create their own parachutes such that they are able to allow loads (such as a raw egg) to land on the ground without breaking.
Besides being passionate about STEM, Mrs Quek has also been co-leading a team of teachers in the school's Learning for Life Programme (LLP) since 2019. The LLP anchors on Environmental Education and provides an authentic platform for community service and student leadership. Some of the LLP activities include Project Gaia and Going Green@BRPS.
Mrs Quek explains, "I want to leverage on ALP and LLP to create fun and non-threatening learning opportunities to motivate students to come to school. The spirit of trying and improving replaces the fear of failure in the learning process and students can see themselves as successful. I have observed how some students have gained more self-confidence and are able to stay focused in what they are doing."
Mrs Quek does not see her work as an educator to be only about developing her students' cognitive abilities. More importantly, she wants to develop her students' life skills and socio-emotional competencies. "I strongly believe that every child wants to learn and excel. No one sets himself up for failure intentionally. Each has his strengths and it is my responsibility to create opportunities for each child to identify and develop his strengths. Therefore, in my role as an educator, counsellor and mentor, I want to get to know every of my students well."
Mrs Quek's students have become more confident and resilient as learners, developing the passion and drive to excel in their endeavours. One of her students had said this to her, "'At the beginning of the year, I disliked Math, but two months before the PSLE, I started to like your Math class! And because you added more humour, I enjoyed your lesson."
Another student said, "Even though Science has not been my strongest suit, I think it is safe to say that I still enjoyed Science lessons tremendously, and I feel that it is because of kind, caring, talented and cheerful teachers like you."
Ultimately, for Mrs Quek, the motivation and delight of an educator come from helping her students experience the joy of learning. "When students find purpose in what they are doing, that will fuel them to want to do more and increase their motivation to come to school."