Championing Cyberwellness, Digital Literacy and EdTech: Miss Athena Tang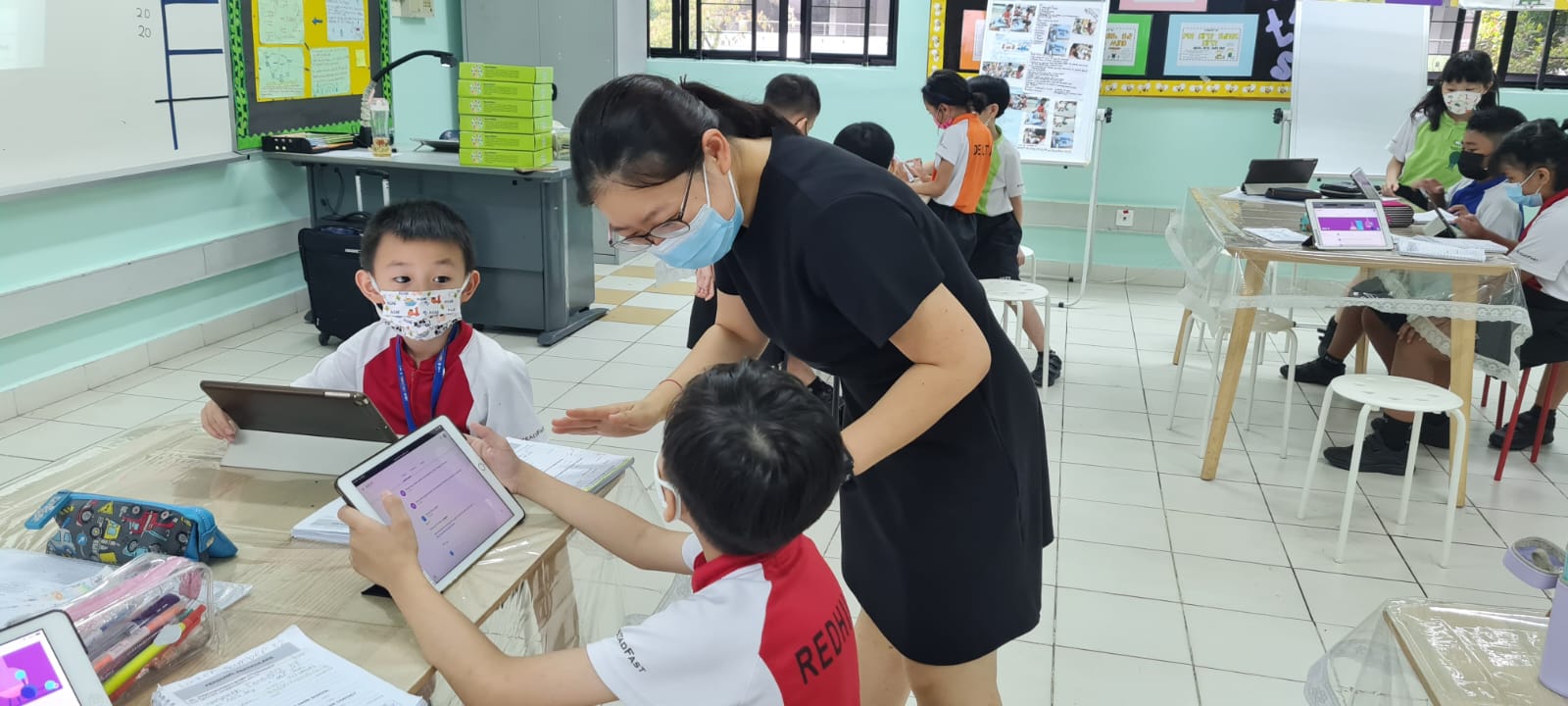 "Today I found out that you cannot just rely on any news as some are fake news and based on opinion instead of facts. We have to check if the source is reliable," reflected Yu Hong, a Primary 6 student, after a cyberwellness lesson designed by the school's Cyberwellness Team. Miss Athena Tang, our school's Cyberwellness Co-ordinator, believes in inculcating healthy cyber habits and developing digital literacy in students to enable them to thrive in the digital future. The Cyberwellness Team strives to achieve this by creating and displaying posters in the school canteen as well as designing interactive SLS activities.
Last year, together with Mr Chua Kah Hern from the Student Management Department, Miss Tang led a team of students to clinch the coveted Gold Award at the National Cyberwellness Advocacy Challenge. Through the challenge, the team created a boardgame, FTGP lessons, SLS packages as well as liaised with the Parent's Support Group to share cyberwellness tips on discerning fake news from real news. The well-designed package won praises from both students and parents. One parent shared, "The game was well-organized and planned. The idea behind the game was excellent and it made us realise that we should responsibly investigate news we receive."
Harnessing the affordances of the internet as a communication tool, Miss Tang has used it to connect with her students. Through using the Edtech tool Padlet, she was able to provide instructions to students as well as answer any queries that students had. The platform also provided a safe space for students to interact with one another, which allowed them to form a tightly knit learning community. This was especially important during periods when school was disrupted with home-based learning. Through posting encouraging messages and funny videos for one another, students' social needs were met and a sense of community and comradery formed within the class despite students being physically apart.
Miss Tang also values the pedagogical benefits of Edtech tools and employs them to create rich and meaningful learning experiences for her students. She designed a flipped learning package on the topic of 'Materials' for her Primary 3 Science class. This allowed her students to play a more active role in the learning process, hence, allowing them to take greater ownership of their learning. One Primary 3 student, Qiyu, enthused, "I appreciate the interesting Science lessons Miss Tang conducted as it built my ambition of being a scientist."
To extend students' learning beyond the syllabus, Miss Tang has also designed robotics and STEM-related project work lessons for the school's Applied Learning Programme (ALP). The robotics lessons develop coding literacy and computational thinking skills in students via getting students to work with LEGO KUBO robotics and the online ScratchJr Program. For STEM-related project work, students are guided to conduct research during lessons to develop their research skills, such as the ability to find, gather and evaluate information. These programmes are both meaningful and well-beloved by students. Rian, a Primary 5 student, commented, "In the near future, I might just become an engineer and the skills that I have learnt from the school's ALP will surely be put to good use!"
Miss Tang believes that technology will play an increasingly important role in education, "Technology is powerful. When technology is employed meaningfully, students learn better and do so with more agency and motivation. As teachers, we work together with our students to prepare their passport to the future." For her efforts, Miss Tang was awarded the ICT Star Award 2021.