An Inspirational Teacher & Patient, Ms Usha Rani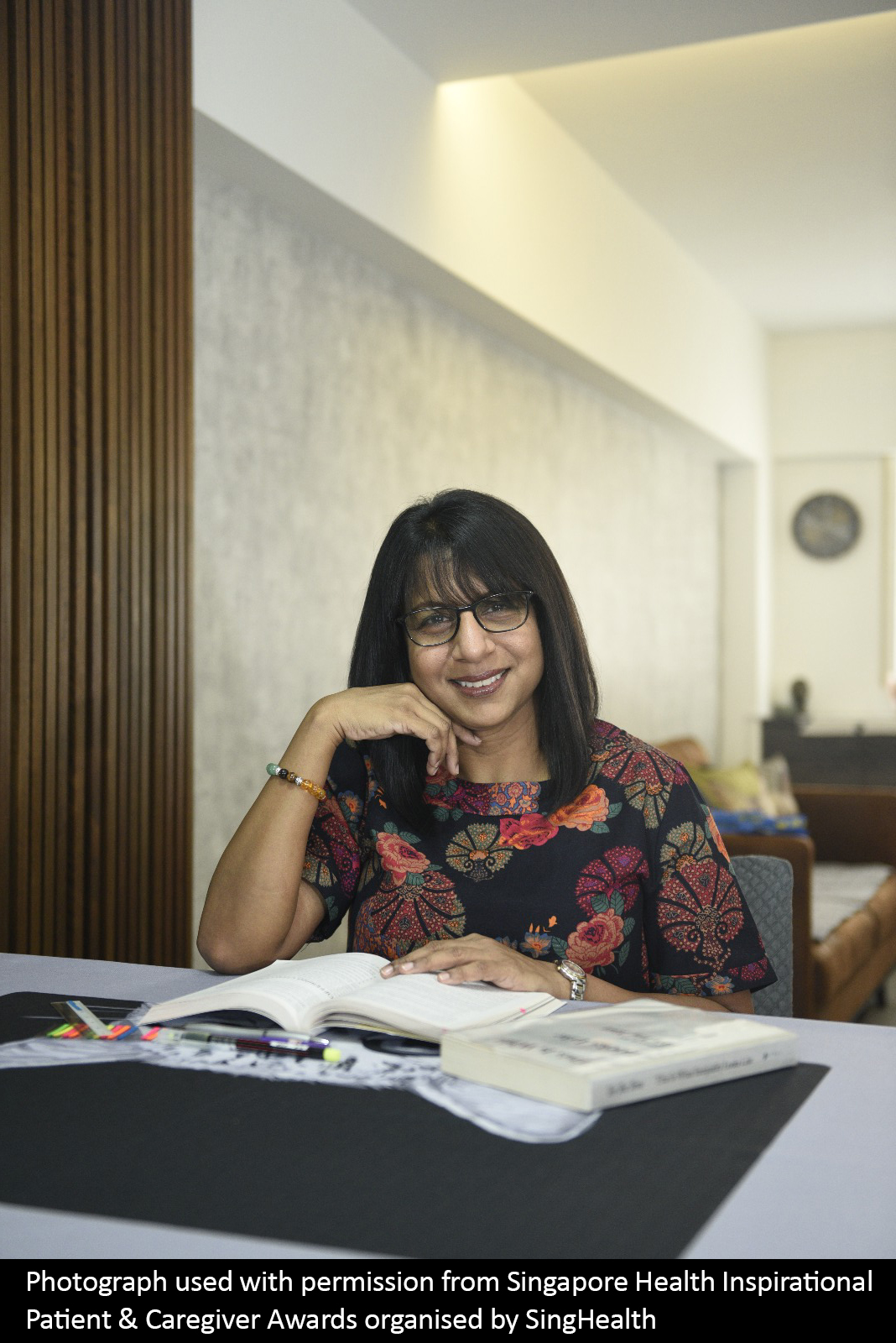 From 2003 to 2014, Ms Usha went through four operations, three of them on her brain. Then in 2018, her doctor told her about more health problems so she started taking medicine to keep herself well. Yet, these challenges did not stop Ms Usha from giving back to society and her students. In 2019, even as she was busy with teaching and taking care of herself, she volunteered with Beautiful People SG, which runs the Free For Life programme. Through the programme, she served as a befriender to women who were to be released from prison within six months. In her role as a befriender, Ms Usha showed show care, a listening ear, and served to journey with these women as they prepared to live their life with their families and community once again.
How did Ms Usha find the strength to help others when she has gone through four operations and is still seeing the doctors regularly? She was not all that hopeful or strong at the start. It was not until her third operation that she found the resolve to fight to get well. She saw how it made her mother worried and sad. So even when she had her fourth operation and heard from her doctor that she had other health problems, she was determined to pull through and fight the odds. In her dark times, her loved ones such as her mother cared and kept Ms Usha going. Her strong faith in her religion also played a big part in helping her out of the hard times. Bouncing back, she wanted to pass on that strength that she found to others as she lives positively each day. Today, she channels that grit into serving her students and community.
For this great effort, BRPS is proud to share that Ms Usha has won the Partner-In-Care Award, as part of the Singapore Health Inspirational Patient and Caregiver Awards 2021. The Award acknowledges her good partnership with healthcare teams to help improve the care quality and experience of others. It honours a total of 27 individuals just like Ms Usha, for their strength, courage and resilience even when they face difficulties in their health, particularly during the pandemic.
Ms Usha is determined to encourage others to be positive when they face difficulties in life. She treasures her role in showing care for and inspiring strength in others. It is for this reason that she continues teaching even with her health issues. She hopes to continue giving back to her students, particularly those who require just a little more strength and motivation than others. She wants to share that no matter where we are at, we can make things better. Her words: "I love teaching because I believe that with every child I help, I can change one generation. I tell them you can't change where you started, but you can decide where you want to move."
Here in BRPS, we are proud to have her in our team as she continues to inspire us. Congratulations and keep up the good work, Usha!
"Ms Usha Rani exemplifies resilience and determination in her pursuit to achieve both happiness and good health. She is an inspiration to other patients and her students alike." Dr Hwang Siew Wai Clinic Director and Senior Consultant SingHealth Polyclinics – Bukit Merah
To read the book which contains Ms Usha Rani's story, please go to: https://www.singhealth.com.sg/Documents/IPCA-2021-Commemorative-Book.pdf
To read the Straits Times article, please go to: https://www.straitstimes.com/singapore/health/awards-for-2-volunteers-who-mentored-others-despite-own-setbacks