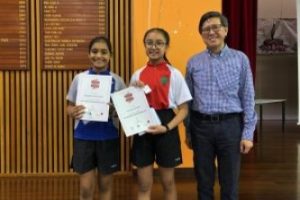 In conjunction with Bulan Bahasa 2018, which is also known as Malay Language Month launched by Malay Language Council, two Rakan Bahasa was appointed in every school. Rakan Bahasa is Malay Language Ambassador who are passionate about the Malay Languagge and Culture. They are appointed to become role models for the Malay Language, particularly to their peers, friends and family.
Last May, Nur Qurratu'ain and Dian Tiara had been appointed to be Rakan Bahasa 2018. While being a role model, they are also tasked to complete Kembara Rakan Bahasa, a mission card where students are to complete tasks that tested their language proficiency and skills such as speaking and writing skills.
They also took part in Newsmaker Compeition where they had to record themselves presenting on artefacts found in Malay Heritage Centre by using an app and later on edit it to become a video.