The very first day of school for P1 & K1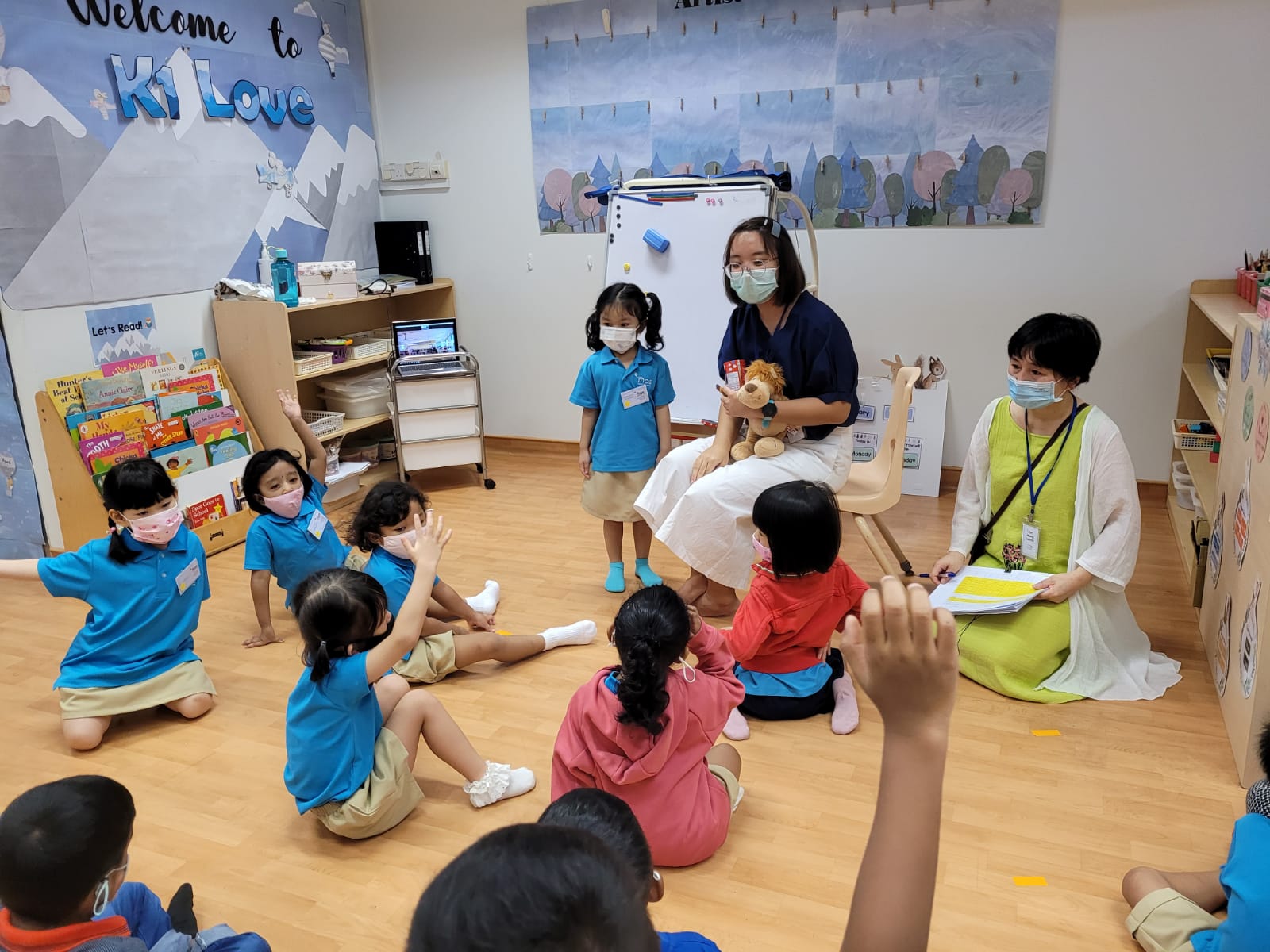 An excited buzz was in the air on the morning of 4 January 2021, as parents ushered their curious Primary 1 and K1 children to school. The questions each parents had were the same, but this year's First Day of School was different. Instead of buddies and direct interaction with their children, parents experienced what a typical day in school was like with Safety Management Measures (SMM), with social distancing and small group sizes. Our parents had their temperatures taken, and observed their children gathered in the hall in a separate room, via a live feed.
Our parents also had the opportunity to go through a "Seven Habits" workshop to learn more about how the primary school embraces Stephen Covey's Seven Habits of Happy Kids for personal and inter-personal effectiveness in our curriculum. Ms Gala, parent of Riaan (1 Sapphire), had rave reviews about the workshop. She shared, "The seven habits programme that the school is implementing is quite impressive. Over the years, I hope that as parents, we would also grow to be good partners in reinforcing the same habits at home."
Parents also toured the primary school to learn about the facilities the school had to offer. At the end of the tour, our parents penned a note of encouragement to their children, and expressed how proud they were of their child, who is starting on a new phase in their education journey. Mrs Ng, parent of Alycia (1 Opal), shared, "I got to know the school campus better, and I feel assured to know that my daughter is in the good hands of caring teachers."
Back in the classroom, the children also had a taste of what a full day of school was like. They spent the school day with their form teachers, who engaged them in counting games and setting basic routines such as handwashing and temperature taking. The students listened intently and participated in the activities conducted by their form teachers. Peckish from the morning activities, they enthusiastically ate their catered meals from SATS. Hongyi (1Opal) was particularly excited about his meatball macaroni. He exclaimed "It's so delicious, I can't believe it! It smells so good and tastes just like hamburger meatballs!"
Similarly, K1 MK children had an exciting start. Parents sat in a separate classroom and observed their students via a live zoom feed, and they were excited to see their children settling into a new learning environment and curiously exploring their new class. Our K1 teachers read the children a story about the first day of school to allay their fears and the children had a simple snack of cornflakes and milk. Sanjay & Vetrivel from K1 Love exclaimed, "I like Teacher Candice because she helps me with things!"
Our MK teachers also introduced the focus of the MOE Curriculum and the outcomes and objectives of preschool education to the parents. The partnership formed with parents at the onset will go a long way in developing the children to be happy and confident learners.
With strong parental support, and caring teachers who look out for them, our Primary 1 and K1 students are ready to take on the challenge of a new phase in learning.